NEWS: Lyme protest at IDSA conference in Philadelphia, Oct. 10-11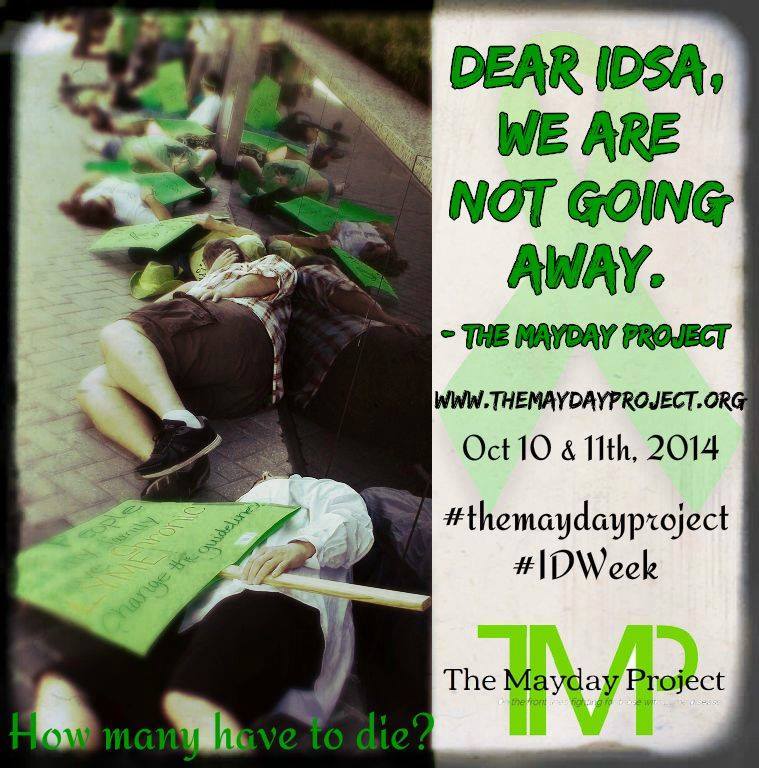 Activists will gather outside the annual ID Week conference, to protest the IDSA's Lyme treatment guidelines.
Press release:
Lyme Activists Target IDSA's IDWeek Conference
Philadelphia, PA – WEBWIRE – Sunday, September 21, 2014
On October 10th and 11th, 2014 chronically ill Lyme disease patients and supporters from around the United States will gather for a protest at the IDWeek medical conference in Philadelphia.
They will call on the Infectious Diseases Society of America (IDSA) to update its guidelines for Lyme disease to reflect the current state of science and improved standards for patient care.
Protest co-organizer Josh Cutler has been fighting late stage neurological Lyme disease for nine years. This condition affects the brain, the central nervous system, and the autonomic nervous system that regulates blood pressure and other vital functions.
"We are uniting to demand that IDSA stop its misrepresentation of science and update its guidelines for Lyme," says 34-year-old Cutler, who went from good health and a high paying IT job to near total disability after he was infected with Lyme. "IDSA needs to put our health first, ahead of patents and profits."
A key concern of protesters is the refusal of IDSA and CDC to acknowledge the epidemic of chronic Lyme disease and the serious threat it poses to public health.
Kenneth Liegner, M.D., who speciallizes in internal medicine, critical care, Lyme disease and related illnesses, suggests that IDSA has neglected to consider a large amount of evidence that chronic Lyme exists and is common. Liegner practices in Pawling, NY near the epicenter of the Lyme epidemic. In a September 2010 letter to the Institute of Medicine, Liegner said:
"Honest review of the worldwide peer-reviewed scientific literature reveals an abundance of evidence for the existence of chronic Lyme disease . . . . The standard of care set by the IDSA 2006 Lyme disease guidelines is one of medical neglect of persons suffering from chronic Lyme disease."
Another concern among activists and many physicians is the extent conflicts of interests have influenced the IDSA guidelines and Government policies to the detriment of patients.
A review of a Lyme Disease Association report: Conflicts of Interest in Lyme Disease: Laboratory Testing, Vaccination and Treatment Guidelines shows dozens of potentially serious conflicts of interests among the members of the CDC and FDA committees that set Federal policy on Lyme disease. The same report documents widespread conflicts of interests among members of the committee that produced IDSA's guidelines for Lyme disease.
According to a report by the U.S. House of Representatives Committee on Government Reform: "The CDC's policy of issuing annual waivers creates an environment where people do not take the conflict of interest issue as seriously as they should. This policy, in concert with sloppy monitoring of the completeness of members' financial disclosure statements, allows for a clubby environment where ethical concerns are downplayed."
A vital issue that affects all Lyme patients is insufficient Federal funding for research, awareness and prevention. FY2013 NIH funding for Lyme, at $20 million, is barely one percent of the $1.8 billion of NIH funding for emerging infectious diseases (Lyme is included in this category), despite the number of new cases of Lyme annually being many times greater than any other disease in that category.
Some researchers have also expressed concern about the quality of federally funded research.
Willy Burgdorfer, discoverer of the bacteria that causes Lyme, had the following comment when interviewed by the director of the award winning documentary Under Our Skin: "The controversy in Lyme disease research is a shameful affair. And I say that, because the whole thing is politically tainted. Money goes to people who have, for the past 30 years, produced the same thing—nothing. Serology [testing bodily fluids for exposure to diseases] has to be started from scratch with people who don't know beforehand the results of their research."
The IDWeek protest is organized by the Mayday Project Lyme patient advocacy group. Co-founders Josh Cutler and Allison Caruana call on Lyme patients and others touched by Lyme to stand together in Philadelphia and make a difference: "We demand an end to the conflicts of interest by researchers who create guidelines that discourage doctors from providing the best standard of care. Together, we will send a strong message that the handling of the Lyme epidemic by IDSA, CDC and FDA is appalling and shameful and that patients are joining forces to fight back and demand reform."
About the Mayday Project
The Mayday Project is an advocacy group for Lyme disease patients, formed by volunteers who have been touched by Lyme in many ways. They aim to raise awareness about Lyme disease and related tick-borne illnesses. Mayday supporters advocate for more accurate tests, better guidelines, improved access to treatment, increased education for physicians, and more funding for research.
For more information visit www.themaydayproject.org.