NEWS: Lyme lobbyist Herb Dorken has passed away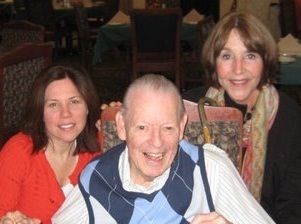 The legislative advocate helped pass six Lyme-related bills in California
2001 was a pivotal year for the California Lyme Disease Association (now called LymeDisease.org). That's when Dr. Herbert Dorken, Ph.D, then a retired legislative advocate, came out of retirement to help pass Lyme-related legislation in California.
Over a period of six years, the following legislation was passed and chaptered into law:
1.  CA. Assembly Bill 2125 Lyme Disease Work Comp for Forest Service, Fire Protection and Police.
2.   CA. Assembly Bill 1091 Lyme Disease Mandatory Laboratory Reporting [criteria for surveillance purposes only, not for diagnosing patients].
3.  CA. Assembly Bill 592 Lyme Disease Physician Protection [for medical professionals treating Lyme disease].
4-6. CA. Senate Concurrent Resolutions, declaring Lyme Disease Awareness Month of May 2006-09.  
Dr. Dorken passed away this summer at age 87.  His passing follows the loss of his beloved wife Irene. Herb is survived by his daughter Sandy of Grass Valley, California and son Brad of Shasta, California.
The photo above was taken a year or so ago, with LymeDisease.org volunteers Mary Beth Faulkner and Stephanie Propp.
LymeDisease.org's secretary and senior VP Barbara Barsocchini said, "I'm honored to have known Herb. He was a colleague and mentor, but more importantly, a friend."