New tick-borne disease discovered in N. California parks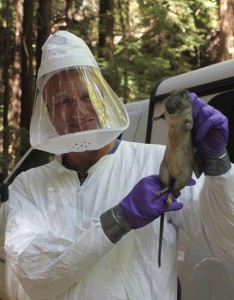 by Kris Newby, Sept. 2, 2015
Meet Dan Salkeld, PhD, a disease ecologist and friend, shown here looking for ticks on a wood rat from the San Francisco Bay Area. According to Popular Science, he has one of the worst jobs in science: tick collecting.
But thanks to the nitpicky diligence of Salkeld and co-author Eric Lambin, PhD, a senior fellow at the Stanford Woods Institute for the Environment, Bay Area residents now know that getting sick from a tick bite is a real and present danger — in a recent study published in PLoS One, the researchers found that 10.6 percent of young nymph ticks and 8.1 percent of adult ticks harbored the disease-causing bacteria Borrelia miyamotoi and/or Borrelia burgdorferi, the causative agent of Lyme disease. (See map below for tick collection areas.)
"We continue to be surprised by the number of ticks carrying Borrelia burgdorferi and Borrelia miyamotoi throughout the Bay Area, and we believe more research into the connections between human disease and strains and species of bacteria is critical," said Salkeld. "It was astonishing that we could see such variety in tick ecology, ranging from low tick infection risk on one trail to high tick infection risk on another trail in the same park."
First discovered in the United States in 2013, the most extensive analysis of Borrelia miyamotoi infections in U.S. residents was published in the July issue of Annals of Internal Medicine. In this study, 51 patients from the Northeast were found to be "frequently very ill" with fever, headache (often severe), muscle pain, fatigue and joint pain. Almost one quarter of the patients required hospitalization. The researchers also found that the miyamotoi infections were not reliably detected by the standard two-tiered Lyme blood test and these patients didn't develop the hallmark sign of Lyme disease, the bullseye rash.
"This research offers some insights into the complexity of diagnosing patients with tick-borne diseases, and the need for medical professionals to be alert to the different symptoms of this newly discovered infection," said Linda Giampa, executive director, of the Bay Area Lyme Foundation, which funded this study.
The Bay Area Lyme Foundation also funds a number of projects at Stanford's Lyme Disease Working Group, which is exploring ways to improve diagnostic tests, evaluate the effectiveness of innovative therapies, expand clinical services and build greater public awareness of tick-borne diseases.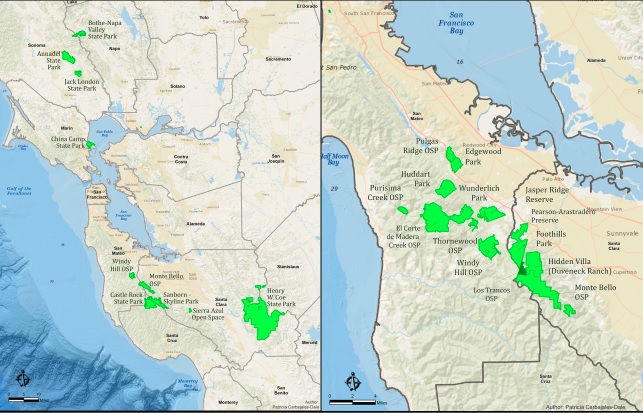 Reprinted from the Scope blog, courtesy of Stanford Medicine.