An indefatigable Lyme disease advocate in North Carolina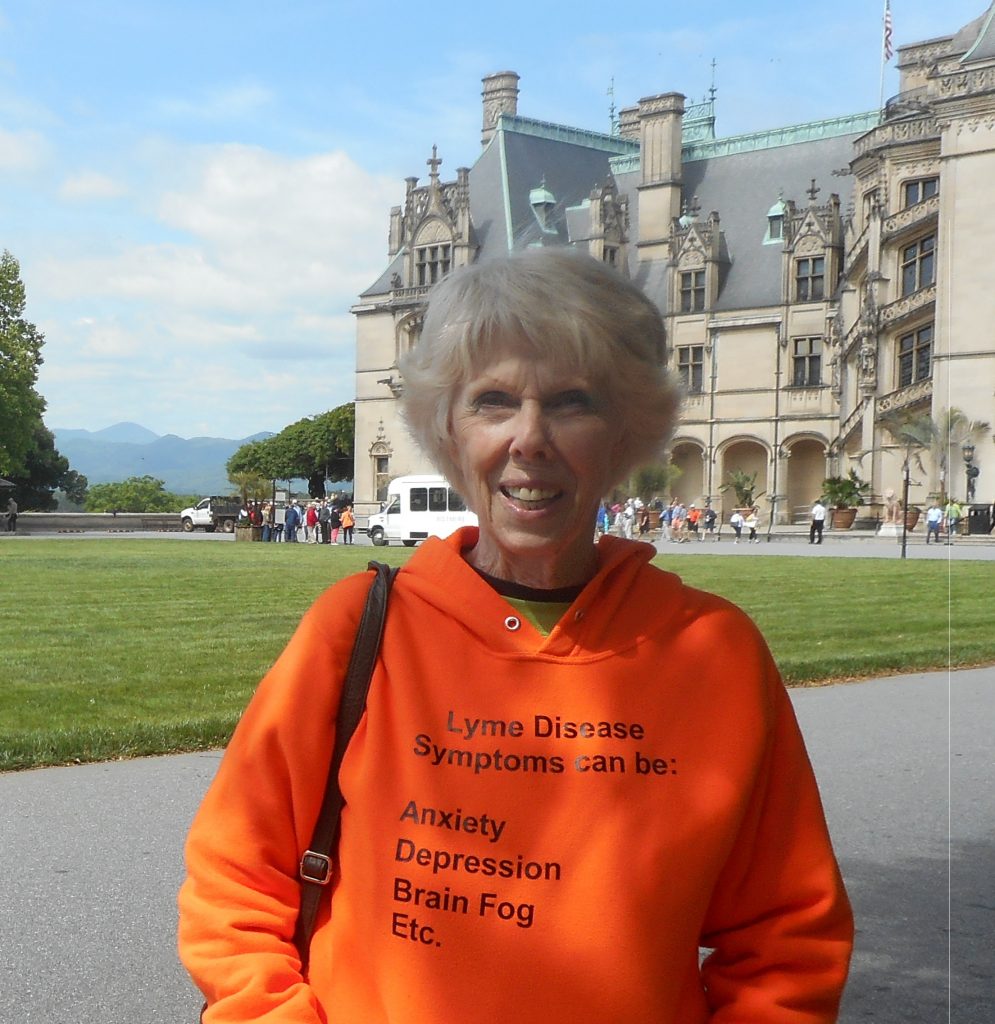 by Janet Dooley
In 1995, while I was living in New England, my body became hijacked by a tick bite that carried five different infections. I went to a ridiculous number of doctors and alternative practitioners and none of them could diagnose or effectively treat me.
I was suicidal, anxious, angry—a shell of the once-optimistic and outgoing woman I had always been. I was 52, had suffered a stroke, and couldn't move my body because of horrible fatigue.
I got labeled with "chronic fatigue" and "menopausal issues." I endured 12 years of "negative" blood tests and the shame of leaving a doctor's office in tears after being made to feel I was wasting their time.
About the time I finally got properly diagnosed by a neurologist, "Cure Unknown" by Pamela Weintraub and the movie "Under Our Skin" came out.
I thought healthcare providers would finally be educated about Lyme disease. Apparently not. However, my neurologist referred me to an excellent Lyme doctor in Boston and I started getting better.
While in Massachusetts, I ran a Lyme hotline for seven years, even though I could barely walk. Then I moved to Asheville, North Carolina.
These days, I can walk three miles and stay active. I never leave the house without one of my tick warning shirts on.
Now, I know people can get Lyme disease around Asheville, too. I have worked with the town to get the mayor to release a tick-borne disease awareness proclamation every May.
My colleagues and I copy it and have handed out over 3000 of them in parks, stores, trails, the Y, and other such places.
TIC-NC
We also distribute materials from the Tick Information Council of North Carolina, known as TIC-NC. Their brochure is a great source of information.
I get people coming to me every day when they see my shirts, to tell me about a relative or friend that is sick. I give them brochures.
Last year, my speech to the mayor and city council focused on psychiatric Lyme and how the opioid crisis, mass shootings and many suicides may be connected to tick bites.
We gave Mary Beth Pfeiffer's book "Lyme:The First Epidemic of Climate Change" to them along with ILADS psychiatric brochures.
I have e-mailed information to Time magazine, 60 minutes, and others. I call congressional representatives with information about tick-borne diseases.
We are in the process of sending the Asheville TBD proclamation and a TIC-NC brochure to all county school superintendents in the state. We are relentless about getting the word out!
In the spring, we will send them to all mayors in the state. This year Black Mountain, an Appalachian town, printed TIC-NC's brochure in its April newsletter. We hope to get more to do that.
I'm 75 years old. I won't quit trying to help educate people about the risks of Lyme and other tick-borne diseases.