NEWS: Summary of recent Morgellons conference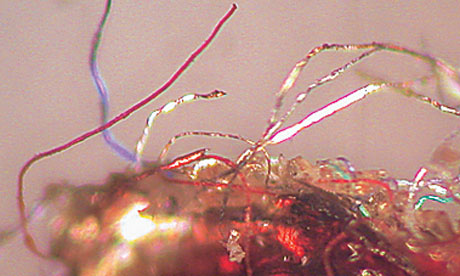 Morgellons is a mysterious condition that gives rise to fiber-like growths on the skin.
Press release from The Charles E. Holman Foundation:
Austin, TX (PRWEB) May 02, 2012
A multinational panel of medical and scientific professionals met on March 24 and 25, 2012 in Austin, Texas at the 5th annual Morgellons Medical Conference entitled, "Searching for the Uncommon Thread" to discuss the latest findings on Morgellons disease.
Morgellons is a debilitating, systemic illness characterized by the formation of unusual fibers within the skin. In addition to slow-healing skin lesions, those afflicted by the illness also experience overwhelming fatigue, and an array of neurological deficits. Morgellons affects people of all ages and ethnic groups, worldwide.
Sponsored by The Charles E. Holman Foundation (CEHF), the two-day event boasted attendees comprised of doctors, scientists, Morgellons patients and supporters. Much of this conference was dedicated to refuting the conclusions suggested by the 2011 study by Hylwa et al, of the Mayo Clinic, and the January 25th, 2012 Center for Disease Control (CDC)/Kaiser Permanente Morgellons study.
Highlights of the two-day event included many educational and thought provoking presentations. Canadian microbiologist, Marianne Middelveen, reported on ground-breaking research that she and prominent San Francisco-based physician, Raphael Stricker, published recently in Clinical Cosmetic and Investigational Dermatology, http://www.ncbi.nlm.nih.gov/pmc/articles/PMC3257881. This research demonstrates similarities between Morgellons and a bovine spirochetal disease.
"The unusual filaments associated with Morgellons are likely composed of keratin and demonstrated photographic evidence that fibers stem from both pavement epithelial cells and hair follicles, tissues where keratinocytes are the predominant cell type," stated Dr. Middelveen.
According to Middleveen "these findings conclusively debunk the erroneous theory that this disease is caused by delusional beliefs and that patients self-implant fibers or are intentionally mutilating themselves". A second publication related to this subject authored by Middelveen, Stricker and other collaborating researchers, is currently in-press and scheduled to be published soon.
Australian Dermatologist Peter Mayne showed clear slides of fibers taken from some of his many Morgellons patients, noting that fibers are subdermal in origin and some originate in the hair bulb. Dr. Mayne is the first practicing dermatologist to thoroughly examine the tissue of Morgellons patients and acknowledge the disease's unique pathological characteristics.
Mayne outlined differential diagnoses he considers in his Australian clinical practice. Dr. Mayne, along with Randy S. Wymore, PhD., Director of Research at the Center for the Investigation of Morgellons disease, reviewed the history of the CDC's noninvolvement with Morgellons disease, and refuted the 2012 CDC/Kaiser study results.
A presentation on Institutional Cognitive Dissonance by CEHF Director, Cindy Casey, RN, in collaboration with Elizabeth Rasmussen, PhD, further demonstrated the repudiation by the CDC of its lawful responsibilities towards Morgellons patients as well as to their confused and bewildered medical care providers.
CEHF Associate Director Greg Smith, a pediatrician from Georgia, Dr. Amelia Withington, a Psychiatrist from Pennsylvania, Ginger Savely, DNP, a recognized authority in the medical management of Morgellons disease from Washington, D.C., and Carsten Nicolaus, MD, PhD from Augsburg, Germany, an esteemed medical provider for Morgellons patients in Europe, also gave informative presentations covering a broad range of Morgellons-related topics.
The Morgellons medical conference is an annual gathering in Austin, Texas of medical and scientific professionals and members of the Morgellons community. Sponsored by The Charles E. Holman Foundation in Austin, Texas, its purpose is to discuss the latest scientific discoveries in Morgellons research. The foundation was named for Charles E. Holman, a pioneer in the fight against Morgellons disease.
The official DVD of the conference is now available. To order a copy of the DVD, please visit http://www.thecehf.org.