TOUCHED BY LYME: Newly crowned Miss Solano teaches Lyme awareness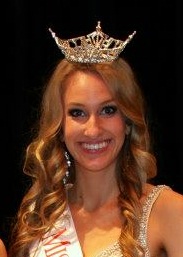 The next step is the Miss California pageant.
Angela Laird, named last weekend as Miss Solano, hopes to use her new position to help spread awareness about Lyme disease. Both she and a cousin contracted Lyme disease several years ago. Though both are better now, she continues to help spread the word about how people can protect themselves from ticks and the diseases they can carry.
Laird, in her third year at Sonoma State University, sometimes gives presentations to elementary school children. Of one recent talk to kindergarteners, she says, "Surprisingly, a lot of them knew about ticks and the smartest ones suggested bug spray as a way to prevent ticks from getting on us."
She uses interactive materials like coloring pages, "find the ticks" worksheets, and a giant stuffed tick to help her tell the story.
The next step in her pageant career is the Miss California contest, which will be held in Fresno in June. Of course the winner of that one goes on to vie for the title of Miss America. Which would open up a whole new venue for Lyme disease awareness, wouldn't it?
We've got our fingers crossed for you, Angela!
TOUCHED BY LYME is written by Dorothy Kupcha Leland, LymeDisease.org's VP for Education and Outreach. Contact her at dleland@lymedisease.org.