LYMEPOLICYWONK: IDSA Guidelines Survey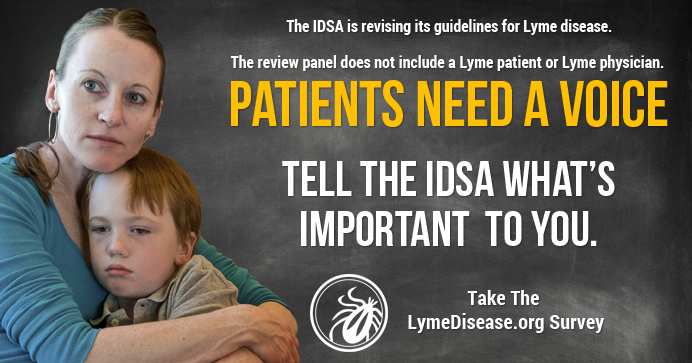 Raise your voice with ours–and let's be heard as a community! The IDSA guideline revision process is very important to patients. The guidelines panel is required to consider outcomes that are important to Lyme patients. But it has excluded them. This survey is your opportunity to tell the panel what outcomes are important to you.
We will present these in our formal comment submission to the IDSA on April 9th and to help promote patient interests in Lyme disease legislation and healthcare policymaking. Today patients struggle for access to the care needed to be well again.  The Institute of Medicine requires that those affect be involved in the process. Yet, the IDSA has excluded chronic Lyme patients from its panel.  Instead, they have selected a patient who does not have Lyme, has no knowledge of Lyme–someone who is not known to the Lyme community and who is not empowered by this community to represent our interests.
Our last survey on proposed FDA regulations of Lyme disease tests drew over 8,000 responses within a few months.  We expect to draw thousands for this survey by April 9th when we submit our formal contents and continue collecting responses even beyond that date to provide some real information on what patients think is important in Lyme diagnosis and treatment.  Raise your voice with ours–and let's be heard as a community! Take the IDSA Survey Now. The LYME POLICY WONK blog is written by Lorraine Johnson, JD, MBA, who is the Chief Executive Officer of LymeDisease.org.You can contact her at lbjohnson@lymedisease.org. On Twitter, follow her @lymepolicywonk