Amended complaint in Lyme lawsuit; battle lines are drawn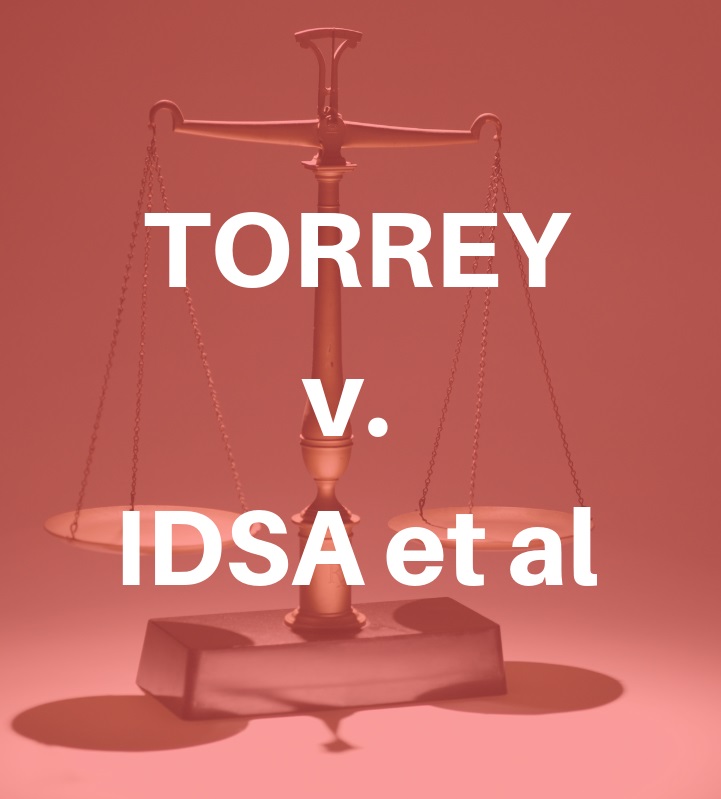 By Mary Beth Pfeiffer
A group of sick and disabled Lyme disease patients is hoping to boost its claim, in an amended lawsuit filed in Texas federal court, that a cadre of doctors conspired for two decades to deny them care.
The revised complaint was almost immediately met with a motion to throw it out. The lawsuit fails, the motion said, to show a concerted and concealed conspiracy, and, moreover, "deletes key allegations that undergirded" its initial fraud claim.
Indeed, the revised lawsuit no longer asserts that "large sums" of money passed from insurance companies to physicians in the scheme to limit Lyme treatment to 28 days of antibiotics.
The dueling documents suggest the lawsuit is entering a crucial period that could lead to a trial, set for June — or outright dismissal. Lyme patients have expressed hope that the suit could change medical views on complex late-stage Lyme disease – and how it is treated.
Six doctors, eight insurance companies
Filed by 24 patients, the suit charges six doctors and eight insurers with violating a law normally applied to organized crime: the Racketeer Influenced and Corrupt Organizations Act (RICO).
Represented by three well-known Houston law firms, the patients assert that insurance companies paid key doctors associated with the Infectious Diseases Society of America to develop and enforce care guidelines that sharply limited treatment and drove doctors who treated outside the guidelines out of business.
A judge had previously rejected the claim of fraud under RICO in Torrey v. IDSA, but allowed the patients to submit a new version of the suit, first filed in November of 2017. Lisa Torrey, a Texas resident and Lyme patient, is the lead plaintiff.
The defendants are the Infectious Diseases Society of America, six physicians who variously wrote the IDSA's Lyme guidelines or helped assure they were enforced, and the insurers Blue Cross And Blue Shield Association, Anthem, Inc., Blue Cross And Blue Shield Of Texas, Aetna Inc., Cigna Corporation, Kaiser Permanente, Inc., United Healthcare Services, Inc., and Unitedhealth Group Incorporated.
The physicians – called IDSA panelists — are Gary P. Wormser, Raymond J. Dattwyler, John J. Halperin, Eugene Shapiro, Leonard Sigal, and Allen Steere. (A seventh, Robert Nadelman, died in 2018.) Wormser and Dattwyler are first and second authors on the guidelines – last revised in 2006 – and Steere did early investigative work when the epidemic emerged in Lyme, Connecticut, in the 1970s.
Fraudulent concealment?
The 58-page lawsuit includes a new section outlining "fraudulent concealment" by the defendants, who, it contends, allegedly knew that it was wrong to deny the existence of chronic Lyme disease and "had a fixed purpose to conceal the wrong."
As a prime example, the complaint quotes a 1994 letter from Steere: "It has become increasingly apparent that the Lyme disease spirochete, Borrelia burgorferi, may persist in some patients for years." The defendants' motion responded, logically, that the letter was "sent to multiple patients," calling into question that it had been concealed.
In the same vein, the lawsuit charges that the conspirators reported Lyme specialists to medical boards and were paid by insurers to deny claims; the motion responded that there was not a "single" specific example of either.
The motion to dismiss further states that the defendants' activities have been no secret. If they report doctors and so on, "they do so openly, and Plaintiffs have been aware of these alleged wrongful acts for decades. They cannot, therefore, be a proper basis to invoke fraudulent concealment," a key legal threshold.
Care denied?
The latest version of the lawsuit is more detailed in its portrait of care denied. It quotes a Blue Cross official as he explained the company's policy of cutting off payment for antibiotics after six weeks. "It's an arbitrary number, six times seven is 42, it's six weeks," Richard Sanchez said in a 1999 court deposition, "…nothing magical or scientific about it."
Asked if there was "any medical or scientific justification for that policy, to restrict approval of IV antibiotic treatment", Sanchez answered with 'No,'" the suit states.
The revised suit also expands on alleged payments to Sigal, who acknowledged in a 1996 case that he was paid $560 an hour by insurance companies to review – and "almost always deny" — Lyme disease claims. "Dr. Sigal quipped that the money he was paid by insurance companies 'would pay for a lot of college tuition, actually,'" the suit states.
More conservative
While more expansive at points, the amended complaint is also undoubtedly more conservative.
The first filing said the IDSA panelists "and many others were paid large sums of money by the Insurance Defendants in consulting fees, in expert witness fees, and to review, and deny, insurance coverage claims related to Lyme disease."
Now it merely states: "There is sufficient evidence to establish that the IDSA panelists were paid by, and influenced by, insurance companies."
Said the defendants in their motion: "The Amended Complaint alleges no more than that the Insurance Defendants paid consulting fees to the IDSA panelists 'to influence the IDSA guidelines,' … and that the Insurance Defendants 'work with, and compensate, the IDSA Panelists to keep the 28-day standard in place.'" That's not enough, the motion states, "to allege an antitrust conspiracy."
The motion also said the case against Steere should be dismissed since the amended lawsuit, unlike the previous one, does not allege he was paid by insurers. Its motion also says the statute of limitations for 21 patients to claim harm had passed.
Differences between two versions
Other differences between the original and revised lawsuit include
The original lawsuit asserted that "from 1997 to 2000, more than 50 physicians" in seven states "were investigated, disciplined or had had their licenses removed" related to Lyme disease care. The amended complaint drops that figure while making much the same argument.
The original filing asserted that "a large number of patients, up to 40 percent, do not respond to short-term antibiotic treatment." The amended suit puts the figure at "at least 20 percent" — which adds up to about 80,000 patients in 2017.
To the dismay of some in the Lyme community, the suit focuses heavily on the denial of longer courses of antibiotics to patients under the IDSA guidelines, which rigidly hold that 10-to-28-day courses almost always eliminate Lyme infection.
"(C)hronic Lyme disease patients who do not respond to short-term antibiotic treatment, and do not receive long-term antibiotic treatment," the lawsuit states, "will suffer debilitating symptoms, will be in constant pain, will be unable to function or live a normal life, and will eventually die from Lyme disease."
Emerging science is undoubtedly mounting to show that standard antibiotics, in particular doxycycline, fail to kill the Lyme spirochete in animal and test-tube experiments. Published research also acknowledges at 10 to 20 percent of early treated patients remain ill under current short-course protocols.
Too much emphasis on long-term antibiotics?
However, Lyme practitioners generally do not see antibiotics as a cure in many late-stage cases, which the suit seems to embrace. Rather, they often use antibiotics in combination with other herbal, pharmaceutical and lifestyle therapies, while calling for more research on treatments.
So far, 195 documents have been filed as the plaintiffs and defendants battle over issues of discovery and medical examinations, still unresolved, to prove the patients have Lyme disease. As of now, a trial is scheduled for June 24 before District Judge Robert W. Schroeder III.
A lot could happen before then.
***
Click here to read documents filed in the case, including the lawsuit and assorted motions.
Mary Beth Pfeiffer, an investigative journalist, is the author of "Lyme: The First Epidemic of Climate Change."