TOUCHED BY LYME: A beauty contest for biofilms?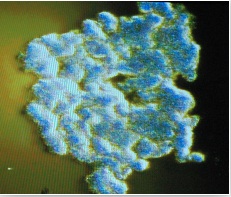 This microbiology website is holding an on-line photo contest for microorganisms. Your vote for the borrelia biofilm could help raise Lyme awareness in the international community of research scientists.
The American Type Culture Collection (ATCC) is a private, non-profit, biological resource center. When scientists need samples of bacteria, viruses, fungi, and protozoa for their lab experiments, ATCC is one place they turn to.
Now, ATCC is sponsoring an on-line photo contest. Kind of a "beauty contest" for microbes.
Holly Ahern, an associate professor of microbiology at SUNY Adirondack (in New York state) submitted a photo of a Lyme biofilm to the contest. A biofilm is a slimy substance that forms a protective barrier around a microbe, making it harder for antibiotics to do their job. Like everything else about Lyme, there's controversy in the medical community about whether borrelia (Lyme) actually forms biofilms. The photo was taken by Bob Myers.
There are two categories in the contest. One is scientific value, and the other is "most popular." You can click on the link below and vote for the "Biofilm of Borrelia burgdorferi" picture. If the photo wins either category, there will be recognition at the American Society for Microbiology (ASM) General Meeting and on the ATCC website.
If the photo wins, says Ahern, "This will be the first time that Borrelia's ability to produce a biofilm will be recognized by an international community of scientists. Hard to believe when you look at the picture that there's any doubt … but, there is."
So please just click here, click on the "Vote" tab, and vote for the "Biofilm of Borrelia burgdorferi B31" pic.
We'll keep you posted on how the voting goes.
TOUCHED BY LYME is written by Dorothy Kupcha Leland, LymeDisease.org's VP for Education and Outreach. Contact her at dleland@lymedisease.org.