TOUCHED BY LYME: Hiking the Appalachian Trail for Lyme awareness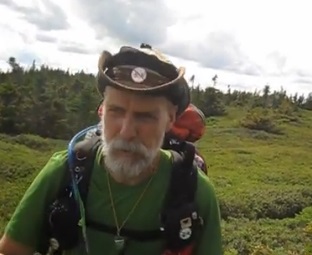 After grueling treatment for Lyme disease, Logan McCulloch made a surprising choice.
In May 2011, Logan McCulloch of Kentucky was hiking with his son in Mammoth Cave National Park, when he was bitten by more than 20 very tiny deer tick nymphs.
At the time I thought I had removed all of the ticks within 12 hours, and mistakenly believed that meant I was safe from Lyme transmission. It later became clear that I was infected, although I was misdiagnosed for more than five months. I experienced the classic "Lyme is almost unheard of here" response from several (Kentucky) physicians as my symptoms progressed over the summer and fall of 2011. By October my brain fog, wide spread arthritis, fevers and crushing fatigue made it difficult to function on a daily basis. Most days I would drag myself out of bed, survive a day of work, and collapse at home as my mind, memory and physical health quickly deteriorated. My doctor wanted me to get an MRI to rule out MS, but refused to consider Lyme disease. I later learned that his was an all too common response. 
Once he was finally diagnosed with Lyme disease, he began intensive treatment that helped him recover "a good part" of his health, though challenges and deficits remained. In response, Logan made a choice that many people might find surprising: to undertake a six-month hike of the Appalachian Trail, in the name of Lyme disease awareness.
He quit his job, he sold his house and possessions, and by summer of 2013 his trip of a lifetime was underway. He started in Maine and by August 29, had reached Vermont. He anticipates finishing by the end of 2013. He's been posting video updates on his YouTube channel and written entries on the "Trail Journal" website. The Kentuckiana Lyme Disease Support group, of which he is a member, also follows his progress on their website and Facebook page.
I spoke to Logan by phone before he left on his trip. My top question: how are you going to protect yourself from ticks during this journey? His answer: Insect Shield clothing & gear, judicious use of repellent on the skin, and extreme caution.
There are several ways you can follow Logan's Journey Thru Lyme:
His entries of the "Trail Journal" website. He posts as "Unitic."
Blogs on the Kentuckyiana Lyme Disease Support Group website.
Logan's YouTube channel, where he posts periodic updates.
Happy Trails to you, Logan. Stay tick-free. Hope the knees hold up.
TOUCHED BY LYME is written by Dorothy Kupcha Leland, LymeDisease.org's VP for Education and Outreach. Contact her at dleland@lymedisease.org.