Asst. HHS Secretary Levine keynotes Congressional Lyme Series event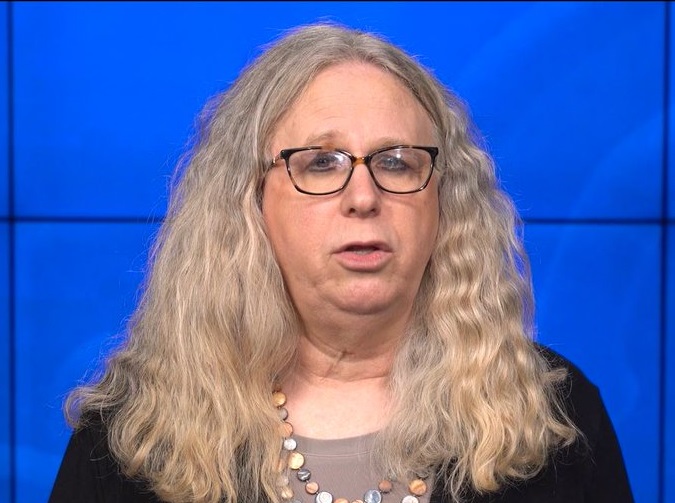 Dr. Rachel Levine, the Assistant Secretary for Health in the US Department of Health and Human Services (HHS), gave the keynote address at Tuesday's Congressional Lyme Series presentation.
The online event was sponsored by The Center for Lyme Action, which works to increase federal funding for Lyme disease.
The topic was "Lyme disease: The first epidemic in an era of climate change."
In her remarks, Dr. Levine spoke about the LymeX project, a $25 million public-private partnership between HHS and the Steven and Alexandra Cohen Foundation.
She discussed two projects recently completed by the LymeX team–the Health+ Lyme Disease Human-Centered Design Report and the LymeX Roundtable Summary Report called Bridging the Trust Gap.
Bonnie Crater, co-founder and board member of Center for Lyme Action, said, "We are thrilled that the new HHS Assistant Secretary for Health, Dr. Rachel Levine, is so supportive of the LymeX Innovation Accelerator program and is so knowledgeable about Lyme disease. Being from Pennsylvania she knows what a frustrating and debilitating disease Lyme can be, so we are grateful to have support at such a high level in the executive branch of government."
You can watch the presentation here:
The event included opening remarks from Minnesota Senator Tina Smith, Maine Senator Susan Collins,  and California Congresswoman Anna Eshoo.
Dr. Levine's remarks were followed by a panel discussion that included the following:
Kristen T. Honey, PhD, Chief Data Scientist, Office of the Assistant Secretary for Health, U.S. Department of Health and Human Services*
Charlotte Mao, MD, MPH, Pediatric Infectious Disease, Massachusetts General Hospital, Spaulding Rehabilitation Hospital/Dean Center for Tick-borne Illness
Mary Beth Pfeiffer, Author, Lyme: The First Epidemic of Climate Change
Michal Tal, PhD, Stanford University
Click here for more information about The Center for Lyme Action.
The following is a press release about the event put out by HHS on June 25:
On Tuesday, June 22, Assistant Secretary for Health Dr. Rachel L. Levine, alongside members of Congress, highlighted the challenges to health equity because of climate-change-related health stressors, such as changing land-use patterns and warmer average temperatures.
"The growth of Lyme disease and other tick-borne illnesses is alarming," said Dr. Levine in keynote remarks. "Climate change is worsening the problem by expanding the geographic and seasonal distribution of ticks, which increases the risk of humans contracting Lyme and other tick-borne diseases. My office is embracing transformative innovation to accelerate scientific breakthroughs through cross-cutting collaboration and partnerships."
Panelists during the event were asked to share personal journeys with Lyme as applicable, discuss how climate change impacts the spread of Lyme and other tick-borne diseases, provide an update on their organizations' activities around the development of better Lyme diagnostics, and share any recent learnings regarding persistent symptoms of Lyme disease.
HHS Chief Data Scientist and Senior Advisor Dr. Kristen Honey brought a unique perspective to the event's panel as a scientist working in the federal government to advance Lyme Innovation progress through the $25 million-dollar LymeX Innovation Accelerator (LymeX) public-private partnership with the Steven & Alexandra Cohen Foundation.
During the discussion, Dr. Honey elevated some potential solutions suggested during other Lyme efforts, including insights from the published LymeX Roundtable Summary Report: Bridging the Trust Gap – PDF

.
She also discussed other efforts by the Office of the Assistant Secretary of Health (OASH), including the development and implementation of the first-ever National Strategy for Addressing Vector-Borne Diseases and the use of the LymeX Health+ human-centered design methodologies to identify and co-create solutions that address the disproportionately high and adverse human health, environmental, climate-related and other cumulative impacts on disadvantaged communities. The published Health+ Lyme Disease Human-Centered Design Report – PDF highlights patient, caregiver, and clinician stories in the form of quotes, archetypes, journey maps for diagnosis and persistent symptom treatment, and opportunities areas for a path forward.
HHS is committed to addressing the upstream social determinants that impact individual and community health. "When you have climate-related problems like Lyme, those communities and people that don't have the financial means and other social resources to manage their health don't have the best outcomes," said Dr. Honey as part of the panel.
Lastly, Dr. Levine introduced plans for the LymeX Education and Awareness Healthathon to raise awareness about Lyme disease and preventing tick bites. Open through July 20, the challenge encourages those who are eligible to create educational materials (for example, social media content, educational or training videos, graphics, or posters) to help raise awareness about how to recognize the signs and symptoms of Lyme disease, how to prevent tick bites, how to recognize a tick, or when to seek medical care. Participants can learn more on Challenge.gov.