Radio station's review of Lyme documentary The Quiet Epidemic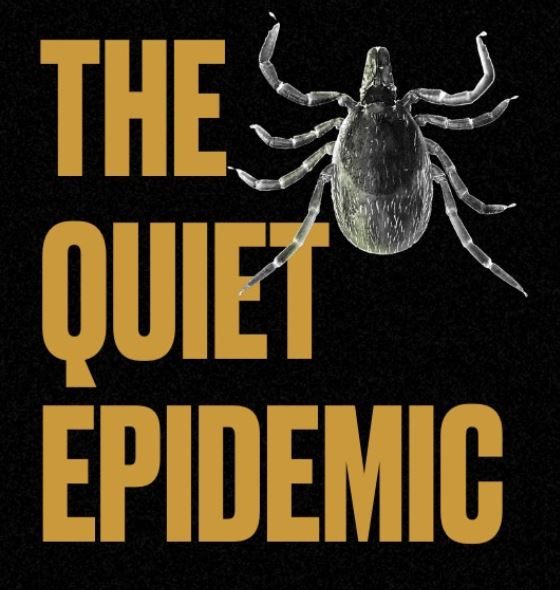 By KPFK Film Club Review
It's hard to believe that a bug the size of a poppy seed could put a heretofore healthy, active person in a wheel chair, or cause heart complications.
But that's the story of Julia Bruzzese, a Brooklyn teenager, and Dr. Neil Spector, whose experiences with Lyme disease put them both at serious medical risk.
It also vaulted them in the middle of a raging medical/political controversy, and made them fascinating subjects in THE QUIET EPIDEMIC, a documentary by directors Lindsay Keys and Winslow Crane-Murdoch.
Their cases are unusual, but not unheard of.
When prevention and early detection fail, treatment of Lyme disease, with a few weeks of antibiotics, usually works for about 80-90% of the 500 thousand or so yearly Lyme cases in the US. Early symptoms (such as rash, fever, chills, muscle and joint aches, headache, and fatigue), resulting from the bite of a bacterium infected tick, are usually responsive.
If left untreated, things become more difficult. Infection might spread to the heart and nervous system, and symptoms such as migraines, facial palsy, severe arthritic pain in the joints or muscles, heart palpitations, shortness of breath, and nerve pain, can occur. Though it can take much longer, these symptoms may respond to treatment as well.
However, several people, including Bruzzese and Spector, have also suffered from a highly debated phenomena called "Chronic Lyme Disease"—serious lingering symptoms, not susceptible to regular treatment, that persist for months or years.
For example, Bruzzese, and her father, Enrico, endured years of inconclusive tests by numerous specialists trying to explain Julia's debilitating fatigue, as well as serious problems with vision and walking. Things really looked bleak when doctors began suggesting that she was suffering from hysteria.
A 2015 chance meeting, and blessing, from Pope Francis on national TV, brought Julia's situation much needed attention, funding and emotional support. She was then able to employ her newly found fame to advocate on her own, as well as other's behalf.
Dr. Spector had been a world-class cancer researcher at the Duke Cancer Institute, when he suddenly began to experience heart-related symptoms. They worsened to the point where he needed a pacemaker, then an internal defibrillator, and, eventually, a heart transplant.
Subsequently, Dr. Spector became heavily involved in cutting-edge Lyme disease research, wrote a successful book, and traveled as a much sought-after speaker. Personally, he corresponded with innumerable Lyme patients who sought his support and advice. His untimely death in 2020 was sorely grieved by many of those he had touched with his generous life.
In addition to profiling these two protagonists, THE QUIET EPIDEMIC discusses the numerous problems that hamper progress in understanding, preventing, diagnosing, and treating Lyme disease. This includes issues with testing, differential diagnosis, varying symptom profiles, problems with vaccine development, and political and economic issues that have gotten in the way of research and progress.
It's interesting that the CDC's Lyme Disease site concludes that "additional research is needed to better understand how to treat, manage, and support people with persistent symptoms associated with Lyme disease," and refers you to their page on Post-Treatment Lyme Disease Syndrome.
As for the film's genesis, it seems that, in 2015, both filmmakers were diagnosed with Lyme disease and were brought together by a nurse practitioner. Their separate medical experiences prompted them to spend seven years using "our cameras to understand the disease that had upended our lives."
The resulting effort, THE QUIET EPIDEMIC, employs live and archival footage, and numerous interviews (including journalist Mary Beth Pfeiffer and Dr. Richard Horowitz) to alert the public to a threat that is virtually everywhere, "as close as our own backyard."
Moreover, Keys and Crane-Murdoch hope to urge the medical and scientific communities to curtail their dispute, and to collaborate on finding definitive solutions to an extremely painful and debilitating disease that seriously impacts multitudes of people.
THE QUIET EPIDEMIC is set for nationwide release in early 2023.
KPFK is a listener-supported radio station based in Southern California.