NEWS: ILADS lights up NYC's Times Square with Lyme message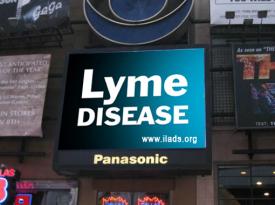 The International Lyme and Associated Diseases Society is running a powerful public awareness campaign to create greater understanding of the dangers of Lyme disease, thanks to a special donation of advertising time on the CBS JumboTron.
The message reads: "Lyme disease…Growing faster than AIDS…protect your family from Lyme disease…get informed at ilads.org."
The CBS JumboTron is a giant video screen, 26 feet tall and 20 feet across. It's strategically located on New York City's world-famous Times Square, at 42nd Street between 7th and 8th streets. An estimated 1.6 million people pass by every day. The digital billboards of Times Square are considered the most valuable advertising signs in the world.

The ILADS message will run 700 times during a three-month period, including during the Thanksgiving Day Parade and New Year's Eve.