Mark your calendar now for July 24 TBDWG webcast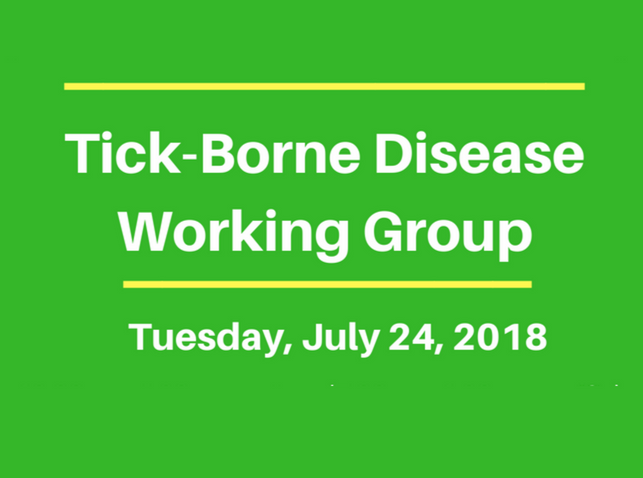 From the Health and Human Services website:
The seventh meeting of the Tick-borne Disease Working Group will be held on July 24, 2018, from 10:00 a.m. to 4:00 p.m. EDT.
The Working Group will review and vote on the content of the five chapters that will be submitted into the Working Group Congressional Report.
Please Note: If you would like to receive a copy of the draft chapters, please submit a request to tickbornedisease@hhs.gov. The meeting materials will be emailed to you prior to the meeting.
Members of the public can attend the live meeting via webcast.
Instructions for attending this virtual meeting will be posted prior to the meeting.
Public Comment – Information and Instructions
The Working Group invites public comment on issues related to its charge. You have the option of verbal comment, written comment or both. Thus, if you provide verbal comment, you may also submit it as written comment or submit written comment on a different issue.
Verbal (by phone) comments:
Requests to provide verbal public comment must be submitted via email by July 19, 2018 EDTto tickbornedisease@hhs.gov.

In the Subject line please enter: Verbal Public Comment – July 24 Meeting.

A total of 30 minutes has been set aside for verbal comments. Each person will be limited to 3 minutes in order to accommodate as many speakers as possible.
If more requests are received than can be accommodated, speakers will be randomly selected.
Your remarks will be broadcast over a live webcast and will become part of the archived recording and meeting transcripts that will be posted on this website.
Written comments:
Written public comments must be submitted via email by July 19, 2018 EDTto tickbornedisease@hhs.gov.

In the Subject line please enter: Written Public Comment – July 24 Meeting.

Written comments will be posted on the Tick-Borne Disease Working Group website and accessible to the public.
IMPORTANT: When you submit your written comment, please include how you would like to be identified with your comment. That is, you may use your name or request to be anonymous. You may also include your city and/or state. If you are providing comments on behalf of an organization you also may include your name, organization, and organization email address. We do NOT post phone numbers or personal email addresses.
Comments should be no more than 4 pages in Calibri or Times New Roman, 11 point font. Text that exceeds the 4 pages will be deleted.
Written comments should either be provided in the body of the email, or in an attachment in Word format.
Please do not include graphics, images, or text boxes. If included, we will not be able to retain them. Simple tables are acceptable.
We can only retain links to ".gov" sites (state or federal).  For all other reference sites, please insert the full URL (e.g., https://www.jscimedcentral.com/ClinicalCytology/clinicalcytology-3-1085.pdf).
Do not include attachments as supporting documentation to your written comments; instead, please list them as references.