TOUCHED BY LYME: Life lessons from a Connecticut turtle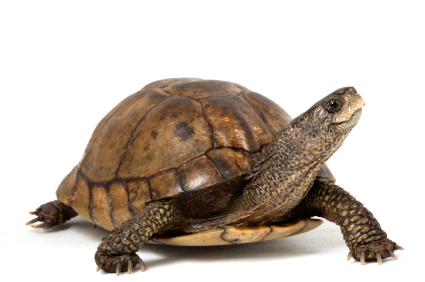 Guest blogger Jennifer Crystal finds–and offers–New Year's inspiration for people battling Lyme disease.
New Year's Day is supposed to symbolize a time for new hope, for new beginnings. People make resolutions, and the only thing standing in the way of keeping them is their own will. For Lymies, resolve and a positive attitude are not enough to make our New Year's wish—to be well—come true. Fighting a daily uphill battle, patients don't always have the strength to muster hope and faith; try as they might, they cannot will themselves to be better. Not able to stay up until midnight, attend a party, or celebrate with friends, the turn of the year often passes for patients of chronic illness as any other day, marked by the same drudgery and pain as too many days before. The hardest part is, patients in the depths of despair cannot see an end to the suffering. Doctors can't guarantee when the light at the end of the tunnel will appear, or how much longer a patient will have to trudge through darkness to get there. New Year's becomes, then, a sort of mockery.
My inbox can attest to this. Normally, emails slow to a trickle at the end of December when people take time off of work and veritably unplug. This year, however, I received an influx of correspondence from Lyme patients all over the world, all seeking the same thing: hope. One spoke of "tossing in the towel," another said it seemed "it would be easiest just to kill [herself]," and countless others said they didn't want to give up, but didn't know how much longer they could go on suffering.
I know this desperation, for it was once my own.
In November 2006, after almost two years of treatment, I was well enough to move out of my parents' home in Connecticut to my own apartment in Vermont. There, I landed a dream job with a travel magazine. I went off antibiotics completely and threw a big Back-to-Life party, bidding good riddance to Lyme and its cohorts.
It look less than three months for them to come charging back, taking over with unprecedented vengeance and shattering my plan for a new life.
Vermont is a difficult place for anyone to move to in November. It's cold and stark. The autumn leaves, once rife with color, have dropped to the ground in drab, dried clumps. The wind whips off the lake, warning of impending winter storms. People are not out and about enjoying nature; they're hunkered down in coffee shops or home in front of the fireplace. The life I'd hoped to burst into was, in fact, shut down, waiting for a spring that I would never see.
I hadn't realized how much the tasks of daily living would take out of me once I was back on my own. The physical exhaustion of grocery shopping, cooking and doing laundry quickly took its toll, as did mental overload from the sudden flurry of reading and writing that my job required. With no antibiotics to defend my immune system, the spirochetes reveled in my stress, replicating at a rate that plunged me into relapse. By the time winter arrived in full force, so had illness. I rang in the new year alone on the couch, with the maddening tick, tick, tick of the clock on the wall echoing in my head.
By February, I was completely bedridden again. I found myself in a painfully familiar situation, unable to work as much as I needed to, unable to care for myself. Dejected, I moved back to Connecticut with my parents, right where I'd started.
This time, the physical and neurological symptoms were that much worse, compounded by the emotional toll of failed independence. I was overwhelmed by fear and anxiety. I remember rolling around on the floor, holding my head in my hands as I sobbed, "How can I be back to zero? How can I possibly go through this again? Will I ever have a life? Is there any hope of a future for me?"
One night, I gathered up all of my pills and gave them to my mother for safe-keeping. I was afraid of what I might do if I had them within reach. I didn't want to die, but I couldn't go on living like that anymore.
The next few weeks were a haze of panic attacks, sleepless nights, therapy sessions and new medications. My inbox and snail mail box were flooded with support from friends, some who knew nothing of Lyme but something of faith, who told me they would hold onto hope for me if I no longer could. Remembering the words of my favorite author Gerda Weissmann Klein, "Never find a permanent solution to a temporary problem," I blindly held on.
Ever so slowly, the new medications began to work. Antibiotics began to fight the spirochetes once more. With the help of therapies like neurofeedback, I started to sleep again, and with that rest my body was able to begin restoring itself.
One day I mustered the strength to walk to the end of my parents' driveway. There, in the middle of the road, I saw a large turtle. I blinked a couple of times. I had never seen a turtle in Connecticut before, much less in our residential neighborhood; I thought for sure my neurological symptoms were playing tricks on me. But as I got closer, I saw that it was indeed a turtle, slowly making its way from one side of the driveway to the other. I sank to the ground, remembering what my doctor had said to me just a few weeks earlier: "Lyme is the turtle disease. Slow and steady wins the race."
I watched in awe as the turtle inched along. It stopped suddenly, and shrunk its head and limbs into its shell to rest. I sat for a long time, just watching and waiting. Eventually, the little head started to peek out again, then one foot, then another. As if it had never stopped, the turtle started moving again, making slow, steady steps until at long last it reached its destination.
I think of that sign of faith as I look back now from my life in Boston, a life I never could have dreamed of during those hopeless days in Connecticut. The best I can give to the Lymies who recently emailed me, the best I can give to readers who are feeling desperate, is the story of my turtle. Hold on, friends. Remember that it's okay to stop and rest, to hide in your shell, to take care of yourself. And remember that there is someone out there holding out hope for you, until you can reach the other side.
Jennifer Crystal, a Lyme survivor, is pursuing a Masters in Creative Writing at Emerson College, in Boston. Her website is jennifercrystal.com. Email her at jencrystal5678@gmail.com.
.