TOUCHED BY LYME: Teenager shows world her vocal and physical tics caused by Lyme disease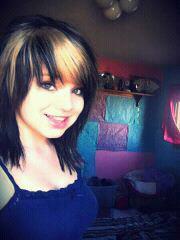 Iowa girl creates a YouTube video to help people realize how serious Lyme can be.
She's a pretty teenage girl in a purple sweatshirt that reads "Free Hugs." She's standing on her front porch in Iowa, talking to someone holding a video camera.  She's smiling, and mostly, her words are clear and well-spoken. But something is wrong.  Several times a minute, her head jerks to the side and a weird vocal sounds—shrieks, yells, chirps—emit from her mouth, until the moment passes and she goes back to talking normally again.
About a month ago, 15 year old Morgan Miller developed vocal and physical tics, apparently due to the Lyme disease she contracted from a tick bite two summers ago. (She'd had a bull's-eye rash and everything. But, for a variety of reasons, she was not tested or treated for Lyme at that time.)
Throughout the year following the tick bite, she developed a lot of pain and other symptoms. Last October, she tested positive for Lyme and received 3 weeks of doxycycline, which seemed to help. But soon, symptoms came crashing back, and by Christmas, she felt like she had a very bad flu on top of everything else.
In the months since then, her doctors refused to believe that her various symptoms were in any way related to Lyme disease. Then, seemingly overnight, in March 2012 Morgan started having twitches and other involuntary movements, followed a few days later by vocal tics, all beyond her control.  According to her mother Jenny, "It has been beyond scary for our entire family, yet she has maintained a very positive attitude…she is determined to try to keep her life as normal as possible, which makes us very proud."
Morgan knows the tics can seem funny to other people. She says she'd rather that other people laugh them off with her and feel comfortable being open about her tics rather than trying to pretend they aren't happening. That's one of the reasons she made the following YouTube video–to explain her situation to others and help educate them about Lyme disease. She hopes to post future videos showing her progress with treatment.
Morgan has just started treatment with a Lyme specialist. Her mom says her symptoms have already improved slightly with antibiotics.
.
TOUCHED BY LYME is written by Dorothy Kupcha Leland, LymeDisease.org's VP for Education and Outreach. Contact her at dleland@lymedisease.org.