NEWS: A ticking time bomb? Untreated Lyme disease can wreak havoc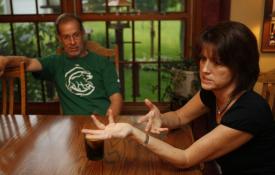 The South Bend Tribune profiles an Indiana couple's struggles with Lyme, delving into the controversy surrounding the disease, and talking to experts on both sides.
From the South Bend Tribune:
A ticking time bomb?
Untreated Lyme disease can wreak havoc
Sue and John Gibbons suffered for years from various physical ailments, ranging from body aches and headaches to fatigue and confusion.
They describe seeking out a parade of medical specialists and thousands of dollars' worth of tests that never provided satisfactory explanations or relief. Then a son with medical issues of his own moved to the West Coast and was diagnosed there with Lyme disease.
More than a year after the South Bend couple also was diagnosed and both began long-term treatment of antibiotics, they are relieved. But they also are still stung by the general disbelief of their friends and the lingering controversy in the medical establishment over the testing, diagnosis and treatment of what's known as chronic Lyme disease.
"It's a very, very lonely disease to have," Sue Gibbons says, sitting at her kitchen table. "It's just disheartening."
'It's here now'
Lyme disease was identified in the 1970s as a scourge of the East Coast, eventually named for its Ground Zero: Lyme, Conn. It is spread by a species of tick – the deer tick – which early in its growth cycle feeds on small mice who have the bacteria Borrelia burgdorferi. As they grow, the ticks prefer to feed on deer. When the too-small-to-see deer ticks attach themselves to draw blood from humans, as they will in the coming spring and summer months, they might pass along the infection.
On that much, everyone agrees.
"If you recognize it, it is mindlessly simple," says Dr. Robert Hunt, a South Bend infectious disease consultant. If a patient is diagnosed early with some classic symptoms, including fever and a rash resembling a bull's-eye, he or she can be treated with antibiotics for a few weeks and be done with it.
In the fall of 2009, Hunt confirmed Lyme cases contracted in St. Joseph County, rather than the historic method of patients merely bringing it back from other parts of the country.
Click here to read the rest of the article.