Dr. Horowitz advocates for Lyme patients on Capitol Hill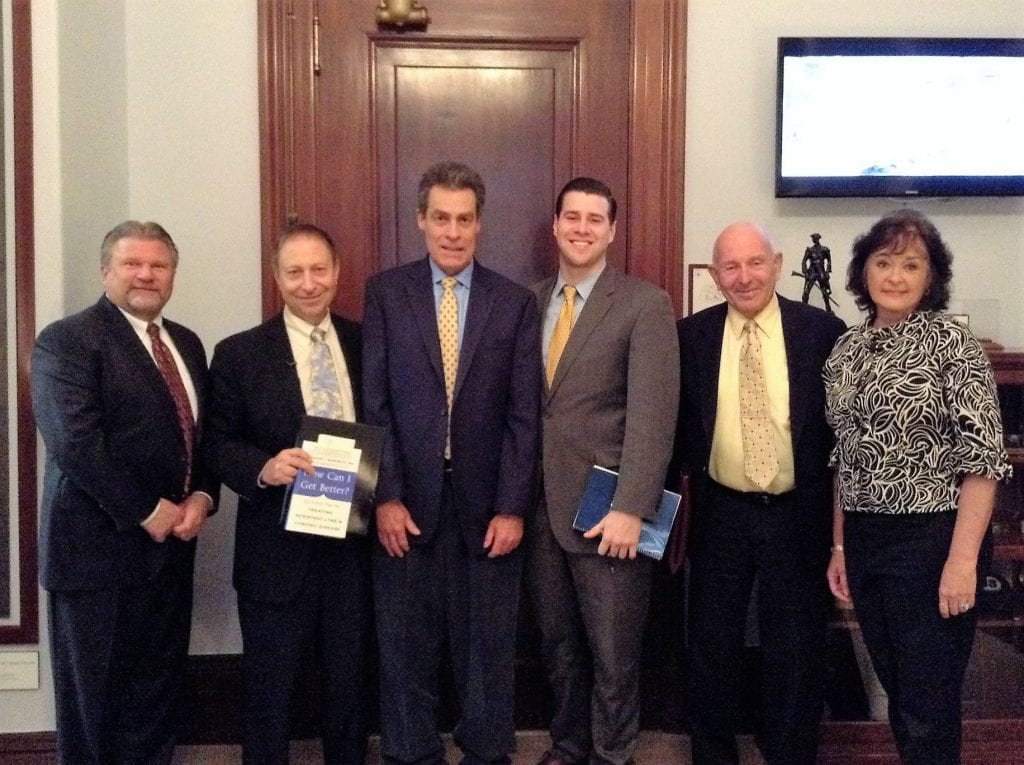 Facebook post by Dr. Richard Horowitz, May 11, 2017:
I was in Washington D.C. yesterday with several Lyme advocates, including Bruce Fries, Ira Auerbach, Chris Przybyszewski (from US Biologix), Karen Sherill and Michael Turner (from Georgia Lyme). We also had Lindsay Keys and Winslow Murdock filming our time in Washington. The footage will be part of their future Lyme documentary, "The Lyme Trials." See the group photo of our advocacy team.
We met with several Senators' aides, including Sen. Shelly Moore Capito (WV), Sen. Lamar Alexander (TN), Sen Kirsten Gillibrand (NY) and Sen. Bernie Sanders (VT). We walked around the Senate building and distributed 100 copies of my new book "How Can I Get Better?" to all the Senators tasked with finding a durable solution to the health care crisis in America.
The timing felt auspicious. Each book had a two-page letter explaining the problem with Lyme and chronic disease in the US, and how it is causing suffering, disability and increasing health care costs. A copy of the letter is included (below).
I also handed out to the Senators' aides that we met with a four-page letter with an action plan to deal with the Lyme and tick-borne epidemic in the US, as well as a 21-point plan on how to improve health care in our country, shifting the paradigm for chronic disease.
At the end of the day, I drove over to the Longworth House building and met with Jeff Bishop from Congressman Faso's office. We unloaded 30 cases of my book (the other 435 copies) that his office will distribute (with the help of NatCap Lyme) to all the Congressmen/women next week.
We had very productive meetings, and I appreciate all of the time and effort that our elected officials' aides spent with us. I left Washington invigorated with a sense that we were heard, and that the Senators and Congressmen wanted to help us in our cause to help improve the health of those who have experienced the devastating consequences of tick-borne disease.
This was a wonderful experience to see American democracy at work. I would encourage everyone with Lyme and TBDs to contact their local, state and federal officials, and have them hear your story. It is especially important at this time when Congress is looking for health care solutions.
Wishing everyone the best of health during Lyme Awareness month.
Here is the letter that went to every member of Congress with my book:
May 10th, 2017
Dear Member of the One Hundred and Fifteenth Congress:
Lyme disease is the fastest growing vector-borne infectious disease in the United States, according to the Centers for Disease Control. Although sometimes thought of as just an "East Coast problem," Lyme disease and associated co-infections are now found in all 50 states and worldwide.
Early detection and treatment are essential to prevent the long-term, disabling symptoms associated with chronic Lyme disease.
Lyme disease and its co infections are controversial illnesses and two approaches to treatment of the disease have emerged: one approach leaves patients without treatment options when short -term therapy fails, as it does all too often, while another approach provides patients with the option of receiving additional care.
Diagnosis and treatment is enormously complex, since tick-borne disease mimics a broad range of medical illnesses such as Chronic Fatigue Syndrome, Fibromyalgia, and autoimmune diseases such as Rheumatoid Arthritis and Multiple Sclerosis.
Patients frequently have seen 10-20 medical providers before being properly diagnosed, and are often disabled due to their significant fatigue, joint and muscle pain, and memory and concentration problems. Many of my patients were told they had Chronic Fatigue Syndrome/Myalgic Encephalomyelitis, Fibromyalgia, an autoimmune illness like rheumatoid arthritis or MS, or even early dementia. Lyme is known as the great imitator, and can mimic these other illnesses.
In searching for answers for these patients, I have identified up to 16 reasons why they remain chronically ill. I call this gestalt of syndromes "Multiple Systemic Infectious Disease Syndrome" (MSIDS). The first point on the MSIDS map is infections. Ticks are now containing multiple infections which can be transmitted simultaneously with Borrelia burgdorferi, the agent of Lyme disease.
Patients infected with Lyme disease and associated co-infections are much sicker and resistant to standard therapies. Patients with Lyme-MSIDS also have evidence of associated immune dysfunction, inflammation, environmental toxins, and detoxification problems. These factors can keep the patient chronically ill, yet they are not regularly accounted for in our health care model.
Some of these infections are also now in our blood supply, and these infections and toxins can be transmitted from mother to fetus adversely affecting future generations of Americans. Chronic tick-borne diseases can be both emotionally and financially devastating to individuals and families and to the productivity of our country.
In 2012, approximately half of all adults (49.8%, 117 million) had at least one of 10 selected chronic conditions, 24.3% had one chronic condition, 13.8% had two conditions, and 11.7% had three or more conditions. Ward BW, Schiller JS, Goodman RA. Multiple Chronic Conditions Among US Adults: A 2012 Update. Prev Chronic Dis 2014;11:130389.
By one estimate, chronic diseases cost more than $2.5 trillion each year.
I believe we need to change the current diagnostic paradigm of how health care is practiced and devote more money to research to solve the challenges of Lyme and other chronic diseases by emphasizing a more personalized, precision medicine as modeled by the MSIDS paradigm.
I assisted with drafting H.R. 4701, the Tick-borne Disease Research Accountability and Transparency Act, which became part of the 21st Century Cures Act, H.R. 6, and was signed into law in December 2016 by President Obama. The Act will give patients, advocates and their treating physicians a seat at the table, will increase oversight and accountability over tick-borne research, and requires the Secretary of Health and Human Services, informed by the working group report, to submit a strategic plan to Congress on a regular basis.
This plan will include benchmarks to measure progress. Congressman John Faso, New York's 19th congressional district, has nominated me to serve as a member of this Congressional working group.
I am confident that with your support, joined with the work of health care providers and patients in your own state, those facing a life-altering, chronic, tick-borne related illness can find hope and help.
I have enclosed a copy of my new book: "How Can I Get Better? An Action Plan for treating Resistant Lyme & Chronic Disease" that describes the diagnosis, treatment, and prevention of chronic illnesses using my MSIDS medical model of describing chronic disease that has been highly successful with more than 12,000 patients.
Let's make American healthy again.
Very truly yours,
Richard I. Horowitz, MD
(Editor's note: Dr. Richard Horowitz treats Lyme and related illnesses at the Hudson Valley Healing Arts Center in Hyde Park, NY. See information about his books and other activities at his website.)