NEWS: Ally Hilfiger on Lyme: "Your tests can come back wrong."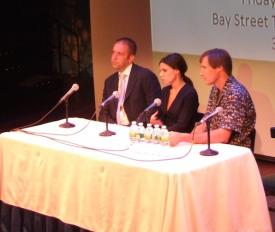 Fashion designer Ally Hilfiger–daughter of fashion icon Tommy Hilfiger–spoke about her years-long experience with Lyme disease at a recent forum hosted by the advocacy organization Time for Lyme.
From the Sag Harbor Express:
By Claire Walla
In case you hadn't heard, fashion designer Ally Hilfiger — daughter of famed fashion icon Tommy — was in Sag Harbor last Friday, August 19. But it's not a story the tabloids picked up on.
"I had Lyme disease fro 19 years and was undiagnosed for 11," Hilfiger told a crowd of nearly 100 people who had gathered inside the Bay Street Theatre that afternoon. She was among four speakers — including physicians Dr. George Dempsey, Dr. Darren Wiggins and Dr. Benjamin Luff — who had come for a forum put on by Connecticut-based non-profit Time For Lyme.
As isolated heads in the crowd nodded in empathy, Hilfiger (now 26) explained that she believes her case of Lyme went back to when she was seven-years-old and spending the summer in Bridgehampton. She had been bitten by a tick, but it hadn't caused a bulls-eye rash.
Even so, "I had fatigue and joint pain, and eventually it turned into confusion," she said, her brow furrowed. "Lyme disease had crossed the blood-brain barrier. I spent a lot of my life in 'the fog.'"
She went on to say that she saw several specialists who misdiagnosed her case as multiple sclerosis and fibromyalgia, among other diseases. Finally, it was a specialist in Boston who treated her for Lyme and for seven years she was on antibiotics and IV drips.
"Today, it's been a full year since I felt completely better," she said.
The purpose of the day's forum, she continued, was to give the East End community the impetus to act if symptoms of Lyme crop up.
"I want you guys to know that your tests can come back wrong," she said. "You have a right to follow your instincts. The symptoms you are feeling are real."