New research seeks to head off Lyme disease before it begins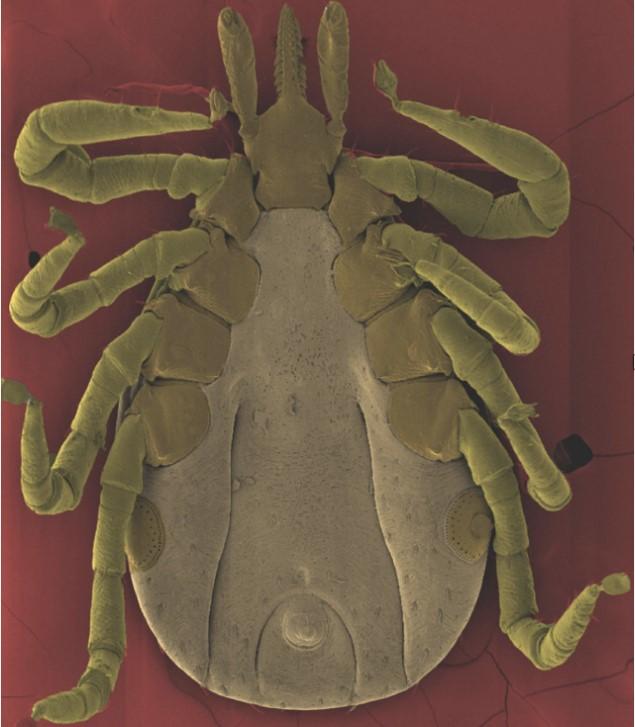 by Samantha Watters, University of Maryland
The University of Maryland (UMD) has received new funding from the Steven & Alexandra Cohen Foundation to develop novel therapeutic strategies that have the potential to stop infection from Lyme disease pathogens before it begins.
Unlike traditional antibiotic treatments for Lyme disease that attack the pathogen directly and put it on the defensive, Utpal Pal and his team in the UMD Department of Veterinary Medicine are working in close collaboration with the National Institutes of Health's National Center for Advancing Translational Sciences (NIH-NCATS) to explore antimicrobials that would interfere with the pathogen on a biomolecular level to inhibit it from causing an infection in the first place.
This work has the potential to greatly reduce the burden of Lyme disease, and particularly Post-Treatment Lyme Disease Syndrome (PTLDS) that does not respond to traditional antibiotic treatments. This grant is one of several new and ongoing projects led by Pal that seek to translate basic research into treatments and vaccines to fight and prevent tick-borne diseases.
Instead of antibiotics?
"This technology we are exploring with the support of the Cohen Foundation is very exciting," says Pal. "Instead of how antibiotics attack the basic housekeeping and maintenance functions of Borrelia [Borrelia burgdorferi, the pathogen that causes Lyme disease], these new antimicrobials would attack essential protein-to-protein interactions. We identified two proteins in our previous research whose interaction is important for infection. In collaboration with NIH-NCATS, we then came up with a select set of compounds that inhibit the protein interaction. The grant will allow us to conduct preclinical testing to see whether treatment with that compound can actually prevent infection."
As Pal describes it, the infection process of Borrelia and the emergence of more cases of PTLDS could possibly require a solution beyond current antibiotic treatments. Lyme disease has now been reported in more than 80 countries, with an estimated 476,000 annual recent cases in the U.S. alone.
Tricky bacteria
While early treatment with antibiotics can be quite effective, the later the illness is discovered, the more difficult it becomes to treat. Borrelia is a notoriously tricky bacteria that has evolved to persist in mammals on a long-term basis, and some of Pal's previous work has shown how the pathogen has the ability to outsmart the immune system and persist in the body for long periods of time.
While the causes are currently unknown, many think this process may have something to do with PTLDS, a chronic and variable resurgence of Lyme disease symptoms months or years after treatment that comes with a series of cognitive, neurological, and inflammation issues. In this case, antibiotics do nothing, and there is no known cause or current cure.
"Lyme disease-causing Borrelia can hide and survive in an antibiotic treated animal, but we don't know if that is the case in humans," says Pal. "People have a lot of theories about PTLDS, but right now, we don't have a complete answer or a cure. The best way to reduce the occurrence of PTLDS and Lyme disease in general is to prevent the bacterial transmission, such as via vaccines, or to use new antimicrobials that stop the infection more completely."
Novel strategies
This grant is one example of recent and ongoing sources of research funding to reduce the burden of tick-borne disease as a whole through the development of novel therapeutic and vaccine strategies. Utpal Pal leads the Tick Immunity project, uncovering the secrets of tick immune responses that could help to develop treatments and vaccines, as well as a recent grant to develop a novel Lyme disease vaccine.
But ticks transmit many human and animal illnesses each year in addition to causing Lyme disease. Despite substantial efforts, vaccines against most tick-borne diseases are still unavailable.
Since ticks transmit most pathogens into their host's skin while they are feeding, a new invention disclosure that was nominated for UMD Life Sciences Invention of the Year identifies a set of novel tick antigens or vaccine targets which could potentially be developed as anti-tick bite vaccines. The successful development of vaccines against tick bites would thwart the transmission of pathogens, thereby reducing the incidence of tick-borne infections as a whole.
"This is an exciting innovation disclosure that has the potential to translate some basic scientific discoveries into public health improvement," says Pal. "These studies address unique aspects of tick biology and pathogen transmission, and our laboratory continues to explore ways that diseases like Lyme disease can be avoided altogether."
PRESS RELEASE SOURCE: University of Maryland