NEWS: Coming soon to a bug repellent near you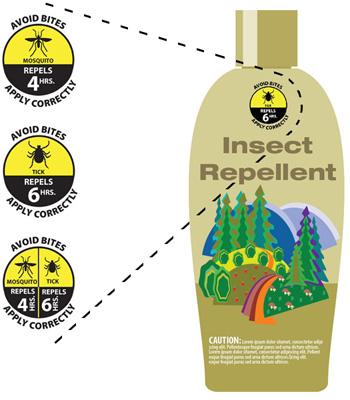 The Environmental Protection Agency has unveiled a new graphic to help consumers evaluate bug repellents.
In an effort to do for insect repellents what SPF labeling has done for sunscreen, the EPA has introduced a new graphic for use on repellent products.
The graphic will appear on the label, informing the consumer of how long the product will repel mosquitoes and ticks. In order to use the graphic on their product, manufacturers must have their scientific data reviewed by the EPA.
"By providing vital information to consumers, this new graphic will help parents, hikers and the general public better protect themselves and their families from serious health threats caused by mosquitoes and ticks. We are encouraging manufacturers to submit applications so they can add the graphic to their registered repellent products," according to an EPA press release.
In order to place the graphic on their labels, manufacturers must submit a label amendment, including adequate test results to support the graphic and meet stringent safety standards. The public could see the graphic on repellent products early next year.
The graphic will only be placed on products that are applied directly to the skin. 
View the graphic and additional information: http://www2.epa.gov/insect-repellents/repellency-awareness-graphic
See the joint statement from EPA and CDC: http://www2.epa.gov/insect-repellents/joint-statement-insect-repellents-epa-and-cdc
See the new website on insect repellency: http://www2.epa.gov/insect-repellents