TOUCHED BY LYME: "Chronic Lyme disease steals life."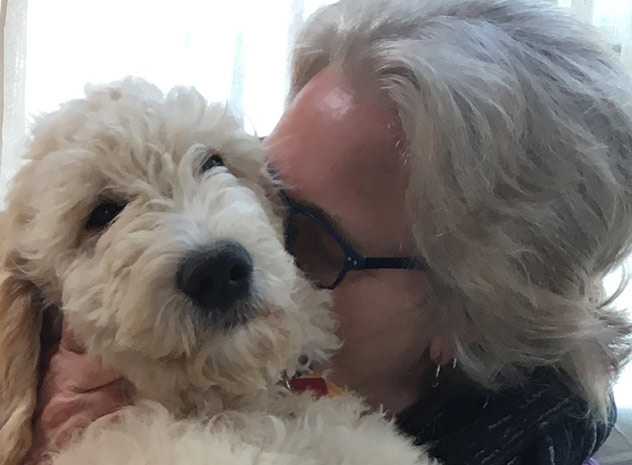 Laurie, a Californian who has struggled with both chronic Lyme disease and colon cancer, states that cancer pales in comparison to the pain and suffering of chronic Lyme disease.
Laurie has formed a fundraising page for LymeDisease.org, telling of her Lyme journey, explaining why raising money for Lyme disease research is so important to her. Here's her story.
Laurie's chronic Lyme disease journey
It is daunting to write about having chronic Lyme disease, as in the early years of this disease I spent hiding it like a deep, dark family secret. I very quickly learned that people, employers changed how they treated you when they learned you were sick.
I put on a good face, acted as if I was "fine" and when the very bad days came, I would shut off my phone, pull the curtains, and crawl into my cave.
Imagine if you can, the worst flu you've ever had and then imagine having it day after day, year after year, interspersed with times of health when you think, "finally it's over, i've got my life back", only to get sick again over and over for 40 years.
When I was 25, I spent time painting landscapes in the Santa Barbara mountains. During that time I had multiple tick bites, but simply removed them – thinking they were harmless. One day, I noticed a strange rash and thought little of it. About a month later I came down with a terrible "flu."
This began a journey that I could have never imagined. For the next 5 years, I crawled through my life with unrelenting extreme joint and muscle pain, severe fatigue, odd skin rashes, gastrointestinal issues, and a list of strange and changing symptoms that stole my life and my son's childhood away. I spent over $50,000 in that five years alone pursuing every possibility of healing from fasting to clinics in Mexico to bizarre treatments. My library of "Get Well" Books is truly staggering.
I actually was a lucky one; something [not sure which treatment] helped….around the age of 30 I got better and was able to have a life. Now rather than being sick constantly, I would get sick every 6 weeks or so for about 4-6 days with bouts of a month here or there. But I was ecstatic to be able to live again!
Chronic Lyme disease steals a life fully lived
And live I did! Never knowing when you're going to be sick is an amazing motivator to live as fully as you can. I did everything I could in my "well" times to grab life fully. I created a successful career, I went on wonderful adventures: kayaking in wild places; Mexico, Canada (most fun I ever had – solo kayaking adventures in Mexico), backpacking, learned to scull and did that each morning I could from my beautiful houseboat, danced, laughed, loved. I "gave up hope" at ever being well. While this may sound strange to most people, giving up hope allowed me to accept this strange and unknown illness and grab hold of the times I had. I stopped looking for a "cure" and put all my energy into living fully.
When I was 48, I was diagnosed with colon cancer. I am convinced that my 23 year fight with Lyme disease culminated in my body breaking down.
I was treated with chemotherapy and steroids (I was allergic to the chemo). Near the end of this 9 month treatment plan, I got extremely ill again. I remember a day sitting in the oncology unit, crying, knowing with certainty that my "old, unknown illness" had come back in full force – more severe than ever. My oncologist had no idea what was wrong with me. They sent me home with a "good luck". I stopped my chemotherapy 2 months early because my "mystery illness" was so severe.
Cancer pales in comparison to the pain and suffering of chronic Lyme disease
Cancer and chemotherapy paled next to the despair of knowing I was facing this terrible dark place again – of constant pain, fatigue and whole body sickness. With cancer, i could still live life even though i might be facing death. But this illness was a living death – one no one knew how to help me with.
My search for a diagnosis began again in earnest. I was tested and diagnosed with Lyme disease, bartonella and babesia 15 years ago. I remember the day I found out. I was so happy to finally know what had been wrong with me for most of my adult life. It was like a miracle and I allowed myself to hope again. Hope that finally this would be over.
That happiness was misplaced. The last 15 years has been a journey of severe illness that destroyed me financially and deeply affected my relationships (although I am very lucky to have an amazing family and a few truly remarkable friends). Below you can see a pictorial history of this journey that included countless procedures, treatments, ER visits, surgeries, doctor visits – the list is unimaginable to most healthy people – but this is the life of a person with chronic Lyme disease (mine is not that unusual).
The truly most amazing thing: All the people I know with chronic Lyme disease keep trying year after year to get back that most amazing gift – good health. The people i have met with this disease are some of the finest people I have known – their persistence and courage is truly astounding.
Chronic Lyme Disease – Early Years
Click on the image to see a larger image
Chronic Lyme Disease – Later Years
Click on the image to see a larger image
I now know that chemotherapy and steroids can cause permanent damage to a person with Lyme making it much more difficult to get well and stay well.
It's a simple and stark reality. Chronic Lyme disease steals life. Most days are a struggle to do the simplest things. My goals for a day: try to do all my treatments (which can take hours), work as much as I can, be kind, be grateful for my incredible family and friends, go outside, do something nice for someone, listen to good music, do what I can to educate people about Lyme disease and the need for research.
Chronic Lyme disease has changed me in many good ways: taught me acceptance and gratefulness, taught me what really matters in life (not success, money, status but simply love and kindness and of course health), taught me that i can only control how i feel and react to what comes my way – not what life gives me.
For those lessons I am deeply thankful…..but honestly I would give up all the lessons learned in a second to run out, grab a kayak and head to Mexico.
Please help me raise money for Lyme disease research.
Donate to Laurie's page by clicking here.
Create your own fundraising page by clicking here.
The TOUCHED BY LYME blog is written by Dorothy Kupcha Leland, LymeDisease.org's VP for Education and Outreach. Contact her at dleland@lymedisease.org.