Formally challenging CDC advice on Lyme disease rashes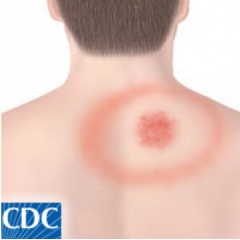 Advocates for Lyme disease patients have filed an "information quality request for correction" complaint that challenges the Centers for Disease Control and Prevention's (CDC's) position on how frequently the bull's-eye erythema migrans (EM) rash occurs in patients with Lyme disease.
The contested information includes statements in CDC publications and presentation materials and on CDC web pages that the EM rash "occurs in 70–80% of the patients with Lyme disease."
According to Holly Ahern, associate professor of microbiology at SUNY Adirondack and co-author of the complaint, this assertion stems from a 1984 study titled "Epidemiologic Features of Lyme disease in New York."
Inherent bias
The study design introduced an inherent bias, Ahern said. "In that study, participants (NYS physicians) were advised by the New York State Department of Health to identify and report patients as having Lyme disease based on the sole reporting criteria of an observed rash."
The advisory included pictures of "classic" EM rashes, specifically those that had a bull's-eye appearance. Excluded from this study were persons with non-specific symptoms or other types of rashes who may have had Lyme disease.
"This is a form of confirmation bias in research," Ahern added, "where study participants were selected to confirm a previous observation rather than investigate the true incidence of EM rash in Lyme disease patients. Prior to this study, the rate of EM in Lyme disease patients was noted to be less than 50%."
According to the complaint, this study has never been reproduced, and numerous subsequent published studies show the rate of EM in Lyme disease patients to be significantly less than the CDC-cited 70-80%.
In fact, in the study, "An Update on the Diagnosis and Treatment of Early Lyme disease: Focusing on the Bull's eye, You May Miss the Mark," the rate of the classic bull's-eye rash was shown to be 9%, and nearly 50% of the patients did not develop a rash of any type.
Skewed priorities, worse outcomes
According to Bruce Fries, president of the Patient Centered Care Advocacy Group and lead complainant, "Inaccurate information about the EM rash skews research priorities and results in critically flawed studies that use the rash as an entry criteria and/or end point.
"Clinical practice guidelines based on this research lead to worse health outcomes for patients who are misdiagnosed and denied treatment as a result of recommendations based on the faulty evidence. This can increase the number of long-term Lyme disease cases, worsening the current epidemic and increasing the financial impact on our country in terms of lost productivity, disability, and increased medical expenses."
The complaint requests that CDC conduct a systematic review of the evidence about the frequency of EM rashes in patients with Lyme disease and publish a notice in CDC's Morbidity and Mortality Weekly Report. Based on the results of this study, the complainants want CDC to update its guidance on the EM rash in all CDC publications, presentation materials, and websites.
Click here to read the full complaint.