TOUCHED BY LYME: Los Angeles Lymewalk included art & poetry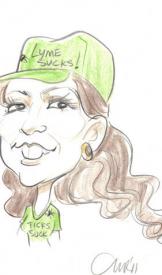 An artist/Lyme survivor named Marc brought his easel to the LA Lymewalk and made caricature sketches of participants. This one is of event co-leader Tracey Silver. Tracey also wrote a poem for the occasion.
As we have so much to say;
As we walk, we must talk,
Maybe someday a possible cure?
Cut me open with a knife;
Pic line, sick line, help line