NEWS: Texas legislator, a Lyme survivor, promotes treatment for Lyme disease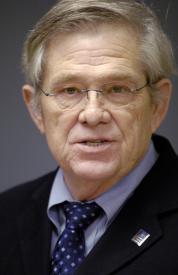 Texas State Senator Chris Harris, who says Lyme disease "rotted out his bones" and gave him a heart attack, is carrying bills to increase Lyme education for the state's doctors and offer protection to physicians who treat Lyme.
From the Fort Worth Star Telegram:
Bills in Texas Legislature would promote treatment of Lyme disease
Posted Friday, May. 06, 2011
Lyme disease left state Sen. Chris Harris with rotted-out bones and the realization that treatment wouldn't come easily.
"I'm one of those people who can tell you what it can do," said Harris, whose battle with Lyme disease started in 1990. "I'm a survivor."
Lyme disease also caused a heart attack, Harris, R-Arlington, testified before a recent hearing of the Senate Health and Human Services Committee. After 21/2 years without a diagnosis, he was finally treated with long-term antibiotics.
Others aren't so fortunate.
They travel out of state for treatment because doctors in Texas fear disciplinary action from the state medical board for overprescribing medication and failing to follow the "standard of care." While that protocol calls for antibiotics over less than a month, some physicians believe that treatment should be more intense and can take much longer.
Two proposed bills would use continuing medical education to address the problem faced by the approximately 100 people in Texas each year who get Lyme disease, which is typically spread by a tick bite. In 2009, there were 88 confirmed cases in the state and 30,000 nationwide, according to the Centers for Disease Control and Prevention.
The legislation would increase the opportunities for Texas practitioners to learn more about treating the disease, said Dave Claunch, a Lyme disease advocate. As more doctors become aware of the latest research, they may be more inclined to use long-term antibiotics, he said.
The bills would also allow physicians to defend themselves from disciplinary action by demonstrating a knowledge of the latest science. Both bills could be voted on within the next couple of weeks.