NEWS: Australian mom fights for Lyme treatment for herself & her daughter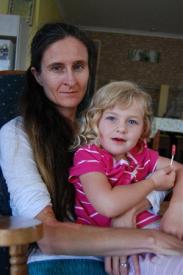 In addition to her family's personal battle with Lyme disease, she must contend with a medical establishment that refuses to acknowledge the disease even exists in Australia.
From the Coffs Coast Independent:
Coffs mum keeping up the Lyme disease fight
FOR Coffs coast mum Natalie Young, her ongoing battle with Lyme disease is nothing compared to the battle she has faced trying to get Australian doctors and medical authorities to acknowledge that the illness is even present in this country, let alone that it is affecting many Australians.
The current factsheet on Lyme disease on the NSW Health website – dated July 2010, yet apparently based on research more than a decade old – states that "Ticks with (Lyme disease causing) Borrelia infection live in temperate forested areas of northern Asia, Europe and the United States.
"In the 1990s, 12,000 ticks were collected from different parts of NSW and were tested for Borrelia bacteria. No evidence of Borrelia infection could be found in any of the ticks collected".
Yet a report published by the Sydney Morning Herald as early as 1995 quoted associate professor of microbiology at Newcastle University, Richard Barry, as saying he had documented 66 cases of Lyme disease.
"That is probably the tip of the iceberg. If we have found 66, there could be 6000," Professor Barry said at the time, adding that he believed the disease "existed along the entire Australian east coast in an indigenous strain that differed slightly from the overseas version."
Suffering "hundreds" of tick bites during her active and rewarding career with the National Parks and Wildlife Service, the once outdoorsy and active young mum these days struggles just to get through each day.
Suffering chronic pain and exhaustion along with fever, headaches, damage to her nerves, head, shoulders and throat, Ms Young said she was at one stage near-death from the infection.
Click here to read the rest of the article.