TOUCHED BY LYME: New cookbook provides road map for Lyme Inflammation Diet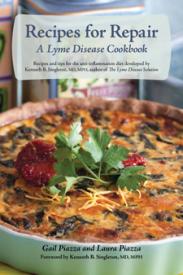 Most people dealing with Lyme eventually come face to face with the need to improve their diet. It may include going gluten-free, and/or eliminating assorted other food allergens, and/or finding ways to incorporate more organic, fresh produce into their daily meals. The simple fact is, what you eat has a tremendous effect on how well you can fight back from chronic illness. However, it's also a fact that, when you're sick, it can seem well-nigh impossible to make fundamental changes in your diet.
Recipes for Repair: a Lyme Disease Cookbook (Peconic Publishing, 2010), by Gail and Laura Piazza, can help. Some background:
Laura Piazza, a graphic designer and photographer, struggled for years with what turned out to be Lyme disease and coinfections. Once she was finally appropriately diagnosed and undergoing treatment, she came across Dr. Kenneth Singleton's informative book, The Lyme Disease Solution. (FYI, I highly recommend this book for any Lyme patient.)
She was particularly drawn to Chapter 5, in which Dr. Singleton discusses what he calls the Lyme Inflammation Diet. Wanting to give her body its best shot at healing, she decided to give the diet a try. Lucky for her, her mom was uniquely qualified to give her a hand. Gail Piazza is a professional home economist and cook, with a long track record of developing recipes for high profile clients. Laura emailed her mom a list of foods she was supposed to eat, and her mom sent her back suggested recipes. That was the beginning of what eventually became this book, which the pair created in partnership with Dr. Singleton.
Recipes for Repair takes Dr. Singleton's dietary guidelines and puts them into practice. The book explains about chronic inflammation, the role it plays in Lyme disease, and the importance of an anti-inflammatory diet. It shows how to incorporate the diet into your life, and gives some basic food preparation tips. But the heart of the book is Part 3, the recipes.
Coupled with gorgeous photographs, the recipes should appeal to anyone seeking wholesome food. No sense of deprivation here. And no need for the cook to be preparing two different menus for people with different health status.
The book even includes some special treats suitable for holiday entertaining. Bon appetite.
You can contact blogger Dorothy Kupcha Leland at dleland@lymedisease.org.