TOUCHED BY LYME: Former "Sopranos" actress to speak at Los Angeles Lymewalk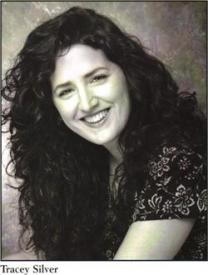 Lyme disease almost wiped out Tracey Silver's acting career before it really got started. However, after three tough years of treatment, she improved enough to land a recurring role on the popular TV show "The Sopranos." She'll speak about the ups and downs of her own Lyme experience, as well as the critical need for more Lyme research, at the LA Lymewalk October 3.
You might say 1997 was a golden time for Tracey Silver. She studied at New York's prestigious Actor's Studio during the week, worked as an international flight attendant on weekends, and had a great man in her life. As she looked forward to launching an exciting career in the theater, each day bubbled forth with health, vitality and grand expectations.
Then, on July 4 of that year, she took a holiday excursion to Lake Minnewaska, a recreational area two hours outside of New York City. A tick bit her on the leg.
"I guess I'd vaguely heard of Lyme disease before," Tracy recalls. "But I knew nothing about it." She pulled off the tick and went on. A month later, she developed a bull's-eye rash, but didn't know to be concerned about that, either.
Not until weeks later, with the last year of her Master's of Fine Arts program underway, did she finally realize how profoundly that lack of knowledge would affect her life. She became horribly sick with Lyme disease, which almost forced her to drop the program. However, with very understanding teachers and some medical care, she managed to limp through to the finish line, obtaining her degree in 1998.
"But then, I was out of commission for three years," Tracy says. Too impaired to care for herself at all, she moved to Florida, where her sister could minister to her. She underwent Lyme treatment—including a stint of IV antibiotics—and slowly her health improved.
Eventually, she got well enough to take up acting again, married that good man (they're still together) and started dividing her time between New York and California. In 2006, she landed a recurring role in the HBO TV series "The Sopranos." After her time on the TV show ended, she pursued other theater projects, and life continued along pretty well for a while. Until she relapsed in 2009.
This time, she didn't mess around. She went right to a Lyme specialist, did six months of IV antibiotics and other treatments, and again pulled out of the slump. She's been back on her feet since April, working as a flight attendant, taking acting jobs when she gets them, and writing a play about Lyme disease.
She's also co-leading this weekend's Los Angeles Lymewalk, which will take place Sunday, Oct. 3, at Palisades Park in Santa Monica.
"The public needs to know about Lyme disease," Tracy says. "If I'd known more back in 1997, I would have gone for treatment immediately."
At the LA Lymewalk, Tracy will speak to the group about her experiences, about the need for more Lyme awareness, and the urgent need for more Lyme research. "It's the 'first annual' LA Lymewalk," she says "I hope every year it will get bigger and bigger—so we can help put an end to this horrible and life-altering disease."
Contact blogger Dorothy Kupcha Leland at dleland@lymedisease.org.