TOUCHED BY LYME: Los Angeles Lymewalk is rallying point for "Team Ashlyn Levin"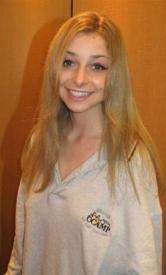 Ashlyn Levin turns 20 this week, hospitalized since suffering cardiac arrest in July. It's the latest chapter in a harrowing Lyme journey that started more than four years ago. A group of her friends who have been helping in the background all along are now mounting a public show of support for Ashlyn. They have already raised more than $2000 in her name for Lyme disease research via a CALDA fundraising page. And have recruited more than 30 people to walk in her honor at the Los Angeles CALDA Lymewalk in Santa Monica October 3.
Ashlyn was a healthy teenager in Huntington Beach until 2006, when she started experiencing severe and frightening symptoms shortly after her family returned from a trip to Europe. It took two years for anyone to figure out she had Lyme disease, years in which her health deteriorated alarmingly.
Unable to continue attending high school, Ashlyn earned a diploma by working with a home study teacher. She even managed to attend her high school graduation rehearsal. Heartbreakingly, she was too sick to attend the actual ceremony. Her situation grew even more perilous as time went by. At this writing, she is on a ventilator.
"I'd barely even heard of Lyme disease before Ashlyn got it," recalls 24-year-old Kelsea Olivia, a music publicist and long-time friend of the family. "But I do know I'd never ever seen anybody so sick."
As Ashlyn's health problems continued in spades, Kelsea herself learned more about Lyme. Among other things, she learned how few Californians seem to know anything about the disease, and about the critical need for more research into the tick-borne illness.
That's when "Team Ashlyn Levin" was born. When Kelsea and some friends learned about the 2010 CALDA Lymewalks—which are geared to raising public awareness of Lyme as well as funds for Lyme research—they realized this would be a special way of supporting their suffering friend. As of this writing, they have raised $2180. (Update: As of 9/29/2010, they have raised $4658.)
"We're privileged to do this in honor of Ashlyn," Kelsea says. "We want to help in any way we can."
Email blogger Dorothy Kupcha Leland at dleland@lymedisease.org.