NEWS: Latest on Dr. Charles Ray Jones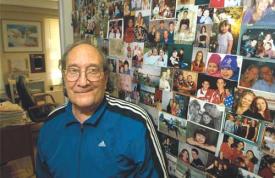 The Hartford Advocate reports that time is running out for the controversial Lyme pediatrician.
.
.
.
.
.
.
.
.
.
From the Hartford Advocate:
Dr. Charles Ray Jones Is Facing Criticism For His Treatment Of Chronic Lyme Disease
Written by Betsy Yagla
Tuesday, 13 July 2010 15:00
Time is running out for Connecticut's best known, most controversial Lyme disease doctor
This spring, Dr. Charles Ray Jones, a controversial and internationally known expert on Lyme disease in New Haven, was ready to quit.
For the last five years, Jones has been defending himself against accusations that he is violating standards of care. In March, the state Medical Examining Board declared him guilty of several charges.
He's charged with treating patients without seeing them, prescribing medicine for children he's never met and keeping improper medical records, among other things.
Jones argues that he has a six-month waiting list. In the interest of time, he orders blood tests before seeing patients. He once continued a prescription for an out-of-state patient after consulting with her mother, who's a nurse.
Earlier this year, he was given four years of probation, a $10,000 fine and ordered to hire a monitor to examine his patient charts every month. The monitor, Jones expects, could cost between $2,000 and $10,000 a month.
"I can't afford that," Jones says. "I realized it's hopeless."
One day after learning of his punishment, however, a 7-year-old boy named Timmy came in for an appointment.
Read the rest of the article here.