LYMEPOLICYWONK: RELATIVE WEIGHT–Specialty Societies vs Patients, AKA no contest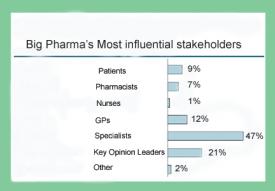 This is a chart of the relative importance of different stakeholders to big Pharma. (Click chart to enlarge.)
I was really struck by how little weight patients were given (9%) compared to specialists (47%) and compared to key opinion leaders (21%).
So if you take specialists and add key opinion leaders to that, 68% of drug companies thought that key opinion leader who are specialists would have the
most influence on their company over the next 2 years. Wow! And, look at the lowly role of the general practitioner
There are four primary players in health care today: big Pharma, insurance, patients, and physicians.  Key opinion leaders and medical specialty societies are seen as third party marketers for pharma, and pharma provides ample funding to both—which is partially why Grassley is investigating medical societies in general.
That is how big Pharma sees the state of play.  What about insurers?  Whose side are they on?  It's pretty much a given that they are not on the side of patients—at least not on the side of Lyme patients.  They are on the side of cost control and the IDSA gives them guidelines for Lyme that amply suit that purpose.  So back to the question.  Specialty Societies vs Patients? Guess it's no contest.
Note and caveat:  The slide is from a presentation given by Johnson & Johnson at an eyeforpharma conference in 2008.  The information is a survey in Europe, but I would be surprised if the US differed on this.
You can contact Lorraine Johnson, JD, MBA at lbjohnson@lymedisease.org.