LYMEPOLICYWONK: Oh, Canada! Important New Lyme Study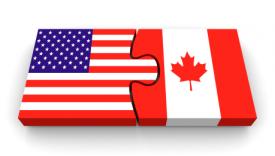 Drs. Janet and Felix Sperling of the University of Alberta published an entomology study on Lyme disease in Canada that is worth a read, especially if you believe that Lyme stops at the US border. Did you know that Lyme has now been recognized in every province in Canada? And that infection rates of ticks are 12.5%? More fast facts after the jump.
Did you know that in Canada:
In Canada, accurate LB statistics have been difficult to obtain because the disease is not yet nationally notifiable?
B. burgdorferi

has now been recognized in every province.
Recent passive surveillance from Manitoba eastward has shown that 12.5% of sampled specimens of the tick vector

Ixodes scapularis
The risk of infection is unevenly distributed  (which means it is unpredictable across a range)
Meanwhile, across the pond, consider this: 
In Scotland the cost of treating a case of early LB is estimated to be one-third that of treating late LB and early and effective treatment is viewed as a cost-saving measure.  Isn't that refreshing?
You can follow additional comments on Lyme policy at www.lymepolicywonk.org.  You can contact Lorraine Johnson, JD, MBA at lbjohnson@lymedisease.org.