House passes 21st Century Cures Act with provisions for Lyme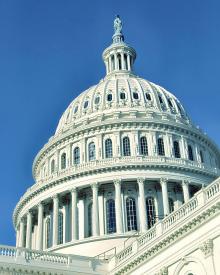 The US House of Representatives today overwhelmingly passed the 21st Century Cures Act (HR 6), bipartisan legislation that will boost funding for biomedical research at the National Institutes of Health (NIH), and make reforms designed to bring new therapies and treatments for rare diseases to market sooner.
New Jersey Congressman Chris Smith, who has carried Lyme disease legislation in the past, praised the new bill for including provisions geared towards helping people with tick-borne illnesses.
Specifically, Section 4081 of HR 6 establishes an Interagency Lyme and Tick-Borne Disease Working Group tasked with monitoring federal activity on Lyme and providing recommendations to guide Lyme disease research and treatment programs. Expanding input on research and treatment by including Lyme patients in the process will open new opportunities for medical breakthroughs.
"The Lyme working group established by this bill will ensure that experts and patients are included when decisions are made that affect the Lyme community," said Smith, who first authored legislation to create an advisory committee on Lyme in 1998. "Lyme patients have suffered for too long because of a lack of medical understanding and comprehensive treatments. This bill ushers in a new approach."
Smith is chairman of the House global health subcommittee, where he held the first ever congressional hearing on Lyme.
The 21st Century Cures Act was developed through many months of bipartisan effort by the Energy and Commerce Committee and passed the House Friday by a 344-77 vote.