IDSA HEARING: Follow the hearing and comment 8 a.m.-5 p.m. ET, July 30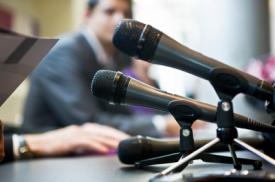 We are providing blog updates of testimony throughout the day.
We will post frequent updates of the hearing testimony starting at 8 a.m. Eastern time. You can add comments at the bottom of this page. However, you must hit the refresh button on your browser periodically, so that you can see new postings and comments as they are added. If you keep this page open without refreshing it, you won't see any of the updates.
****4:39 ET–panel re-called some speakers to ask additional questions. What did Dr. Steere think of how Phillips quoted him? (they were old studies, his opinions have changed.) What about Dr. Johnson of CDC regarding two-tiered testing (she says she was quoted out of context). Dr. Stricker was allowed to have the last word. He said the system for testing Lyme diseease in this country is broken, and needs to be fixed. Dr.  Baker (chairperson) adjourned at 5 pm, after stating the panel hopes to reach its conclusions before the end of 2009.
****4:15 ET–Dr. Gary Wormser, MD (Lead author of the 2006 guidelines) He discussed differences between 2000 and 2006 guidelines. In going over the guidelines, he mentioned "neurologic symptoms in late Lyme is extremely rare."He said guidelines are voluntary, not intended to supplant physician judgement. He said no benefit to longterm abx. Largely discounted the importance of animal studies showing persistence. Discounted studies that showed persistence in humans. Only thing he'd change in the guidelines is a little longer therapy for babesiosis.
****3:50–Dr. Ray Stricker, former ILADS president. Challenges the IDSA's stance on lab testing. The two-tiered system is woefully inadequate. Not only shows how the tests are unreliable, but he quotes Dr. Johnson of the CDC (earlier testifier) from a presentation she did last year. In today's testimony, she said how great the testing is. In the passage he quotes, not so much. Challenges notion of "implausibility of persistent infection." Challenge to early LD treatment duration." (Refutes with failure rates shown in many studies.) Challenges IDSA's Late neurologic Lyme treatment recommendations. Showed systematical errors and misleading statements in IDSA guidelines. STricker maintains that abx is relatively safe and justifiable in chronic LD.
****3:32 pm ET–Arthur Weinstein, MD. Agrees with guidelines, no long-term abx. Would replace "post Lyme syndrome" with "somatization syndrome"–(Ie, it's all in your head). Says antidepresseants, cognitive therapy, and "not labeling it as a medical disorder" as being importatnt to treating. Singled out "advocacy groups" as promulgating the idea of chronic Lyme. He's a rheumatologist, but he was talking more in psychological terms.

****3:20–taking 10 minute break*****
****2:55 pm ET–Dr. Steven Phillips, ILADS past president. Refuted statements in the IDSA's guidelines, often by using published studies by the guidelines authors themselves. Showed 25+ studies documenting persistent Bb in humans. Says IDSA statement that "no convincing evidence exists," is an "egregious midstatement," and patients are being harmed by the guidelines. In answer to question, he spoke about cystic form of Bb. 
****2:29 pm ET–Allen Steere, MD. Talked primarily about Lyme arthritis, as the primary symptom of late LD. Says few people have neuro-Lyme. Says all patients with late Lyme will be seropositive by two-tiered system. Said Lyme neuropathy and Lyme encephalopathy are RARE and the effects are SUBTLE and treatable with 4 weeks of IV abx. Believes antigen testing has not shown to be reliable.
****2:01 pm ET–Dr. Ken Leigner. MD. (physician/scientist) Riveting account of several extremely difficult Lyme cases that were very well studied. Showed how sick people can get–how antibiotics can help–how direct detection methods are what's really needed. We need "general reassessment of everything we know about Lyme."
****1:47 pm ET–Dr. Sunil Sood, MD. ID consultant to pediatricians. Pediatric ID doctor. Author of textbook. He firmly agrees with IDSA guidelines. No evidence of transmission of Bb between mother and fetus. Ring-shaped rashed are over-treated for Lyme. 
 ****1:23 pm ET–Dr. Brian Fallon, MD. (Columbia) Disagrees with IDSA guidelines saying long-term abx aren't effective. He says they have been shown to be effective, tho there are risks.Discussed adverse effects in his study, especially those with PICC line and staph infection. Discussed Krupp study at length. His bottom line was that repeated abx for fatigue is effective, with risks. Panelist asked his recommendation for someone with a particular scenario–would he recommend retreatment. He is absolutely yes, he'd recommend that.
****1:01 pm ET–Dr. Eugene Shapiro (former member of 2000 and 2006 Lyme guidelines). Talked about study promoting one-dose doxycline Lyme prevention. Then, Re: Chronic LD–"majority of patients labedled with LD have no eveidence of ever having it." No benefit to longterm ABX, high risk. Qoted Oksi study saying long-term abx no better than placebo. No justification for changing current IDSA guidelines. Need more research into "medically unexplained symptoms."
****12:36 pm ET–Dr. Sam Donta, MD. Infectious Diseases. Made comparasions between CFS, FM, Gulf War Illness, and Lyme. Question about western blot tests. Labs should report all bands. Spoke about SPECT scans. Questioned Klempner study. Said Klempner shows that a certain kind/length of treatment didn't work, but doesn't prove different/longer treatment couldn't work–though that's how the IDSA interprets it. He said combination abx can be beneficial. 
–-11:45 am ET–breaks for lunch for 45 minutes–

****11:23 am ET–Dr. David Volkman, physician/scientist, formerly of NIH. Testified by telephone. He spoke about how Bb can persist in dogs, mice and humans. he talked about seronegative lyme disease–(blood tests negative, but symptoms say yes). Patients can be chronically infected by Lyme but have negative blood tests. He critics the CDC surveillance definition–both for problems with the definition itself, and also for how it is misapplied. Failure to meet the case definition is wrongly equated with not having Lyme. He oppses the IDSA recommendation for a single dose of doxycycline to prevent Lyme after a tick bite–ineffective. 
****10:58 audio visual came back after I clicked on "self serve" buttom on bottom left corner of IDSA screen. I missed much of Dr. Johnson's presentation, but when I got AV back, she was talking more about Lyme tests. She staunchly defended the IDSA guidelines' two-tiered testing system. She said it isn't in patients' interest to test people who don't have a "high probability" of having Lyme. Later, under questioning, she admitted that the various studies she has relied on for her conclusions have had very small sample sizes. She said that's to be expected when you're dealing with a disease "thought to be rare."
****10:50 am ET–lost sound and picture from IDSA feed****
****10:47 am ET–Barbara Johnson, Phd. from CDC. She supports two-tiered serological testing, per IDSA. (ELISA & Western blot.)
*****10:40 am ET–the panel has taken at 5 minute break****
****10:12 am ET–Alison DeLong, MS. Researcher, Center for Statistical Studies, Brown University. She challenges two recommendations from the guidelines. 1. Retreatment of persistent symptoms not recommended 2. Long term abx treatment not useful. She concludes there are so many shortcomings that Klempner's trials cannot be used to formulate treatment guidelines.
****9:45 am ET–Dr. Ben Luft, Stonybrook. Guidelines over-emphasize objective symptoms (lab tests) over subjective sx (pain, fatigue, cognitive impairment–even though subjective sx are the hallmarks of chronic lyme. Discussed several studies demonstrating persistence and transmissibility. Luft ran over time, so no questions from panel.
****9:25 am ET–Dr. Philip Baker of American Lyme Disease Foundation, formerly of NIH. Defended current guidelines as being correct. Says long-term abx for Lyme is unjustified and harmful. No evidence showing abx as safe. Defended the studies relied on by guidelines.

****8:50 am ET–ILADS president Dr. Daniel Cameron went through the IDSA guidelines showing what he considered to be flaws: a poor level of evidence, risks that were not considered by the IDSA panel, costs that were not considered. He outlined significant problems in the studies relied on by the guidelines. Panel member asked if guidelines should be "junked." Cameron said no, but there should be significant revisions.
****8:30 a.m. ET–CALDA CEO Lorraine Johnson showed her own SPECT scans, showing major changes in her brain before and after long term antibiotic therapy. She presented results of CALDA's survey of 3,000 Lyme patients, indicating that more than half of respondants remained ill under the IDSA guidelines. Of those, more than 60% improved with additional treatment. She compared Lyme treatment (per IDSA–no options in treatment) with cancer and other diseases which allow for a wide variety of treatment options. Several panel members asked her questions, which allowed her more time to discuss insurance denials.
  ****8:10 a.m. ET–Patient advocate Tina Garcia spoke movingly and articulately about her own experience with Lyme, as well as those of the many patients she has tried to help through the years. She has suffered from Lyme for 10 years, only 4 of those getting appropriately diagnosed and treated for Lyme. A passionate presentation of the patient's point of view.
 ****4:42 a.m. Pacific Time–7:42 Eastern Time. Things are supposed to get going within a quarter hour. We are standing by to provide updates throughout the day. Remember to refresh your browser often****