ILADS Submits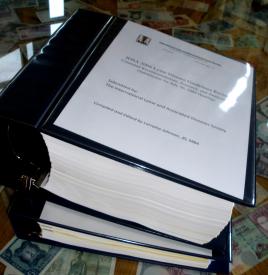 Pop the cork off the Champagne and let the fireworks rip! ILADS made its document submission for the IDSA Lyme disease review panel. And the weight of evidence was staggering–
Who:  I headed the working group, which consisted of Drs. Cameron, Stricker, Liegner, Maloney, Green, Phillips, Zackrison, Tao Liu, Ph.D., Allison DeLong, M.S., and Barbara Blossom, B.A. 
When:  Submission received by IDSA on April 23rd.
What: Over 1600 pages of analysis and research studies.  Close to 300 pages of original analysis contesting IDSA recommendations. 
Why: Because the recommendations are—well, are not just, and because, well, because the "recommendations" are treated as "mandatory" by insurers, medical boards, hospitals—you get the picture. 
How many?  10.  The working group contested the following recommendations and assertions:
The Lab Diagnostic Test Requirement–Page 1090
The Restriction on the Use of Clinical Judgment—Pages 1089-90
The Prophylaxis of Lyme disease–Page 1100
The Denial of Persistence–Page 1118
The Restrictions on Specific Therapeutic Options–Recommendation 5, Page 1105 
The Early Lyme disease Treatment Duration–Recommendation 1, Page 1104
The Late Neurologic Lyme Disease–Recommendation 3, Page 1113
The Recommendations for the Treatment of Arthritis –Recommendations 1 and 2, Page 1113
Post Lyme Disease Syndrome Definition—Recommendation 1, Page 1120
Post Lyme Disease Syndrome Treatment Limitation—Recommendation 2, Pages 1120-1121