TOUCHED BY LYME: Young advocate helps educate her community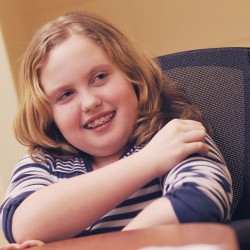 An 11-year-old Lyme survivor shares her story to help others.
.
.
.
.
.
.
.
.
.
More than 220 people turned out for a recent "Tick Talk" in Brewer, Maine, to teach people how they can avoid Lyme disease. Presenters and featured guests included Dr. Beatrice Szantyr, RN Happy Dickey, and members of the Jordan family. Eleven-year-old Sally Jordan, a Lyme survivor, shared a poem she wrote:
MY TIME WITH LYME

I never know when I awake
which part of my body will ache,
My words are jumbled my minds a blur
how I wish there was a cure.
My joints are stiff, my head is throbbing.
My life, the lyme is robbing.
Why didn't my doctors here see
what was deep inside of me.
I felt like they didn't even care
about all the symptoms I had to share.
Sometimes I can't even go to school
because the Lyme likes to rule.
My body has felt like this for years
I often go to sleep in tears.
By God's hands, I met Dr. Jones
He's my hero, he didn't leave me alone.
(written by Sally Jordon)
Sally's battle with Lyme was recently featured in the Bangor Daily News. The girl hopes her experiences can help other people avoid similar struggles.
TOUCHED BY LYME is written by Dorothy Kupcha Leland, LymeDisease.org's VP for Education and Outreach. Contact her at dleland@lymedisease.org.