Will Lyme lawsuit against IDSA be revived?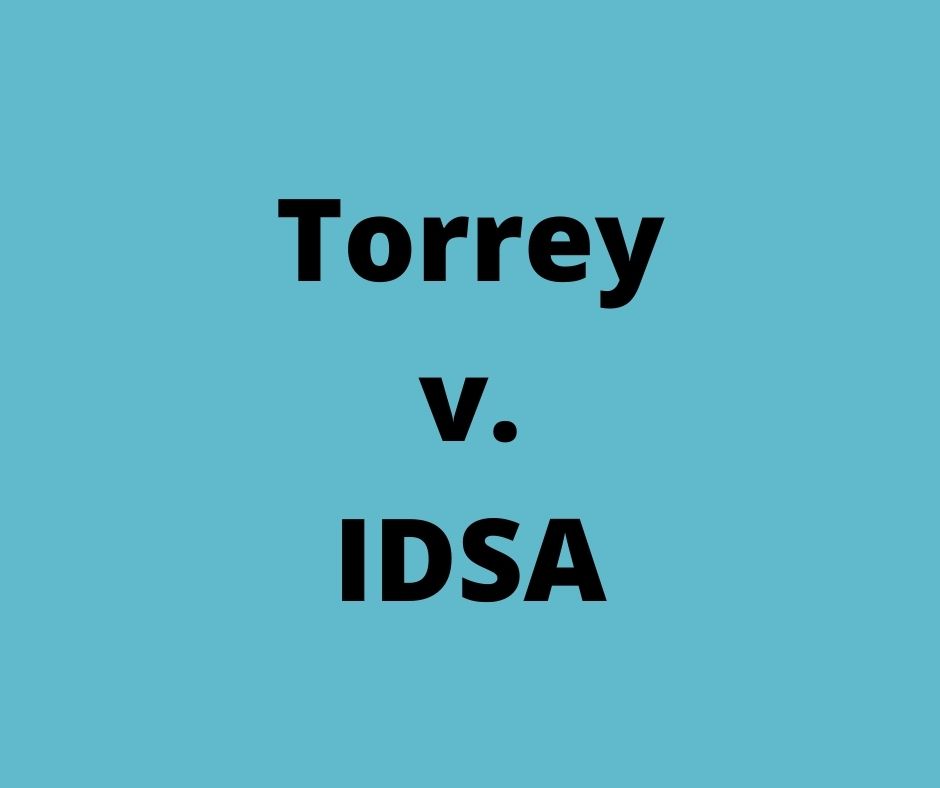 Two years ago, a federal court dismissed Torrey v. IDSA, a lawsuit brought by a group of Lyme patients against the Infectious Diseases Society of America.
The patients have appealed the court's dismissal, and last week, an appeal hearing was held. We don't know when the court will make its ruling as to whether the lawsuit can go forward.
By Cameron Langford, Courthouse News Service
A group of Lyme disease patients asked the Fifth Circuit on Thursday to revive their lawsuit against a medical society they claim issued bogus guidelines that insurers used to deny them coverage, forcing some to pay hundreds of thousands of dollars for their care.
Each year, around 30,000 people in the U.S. are diagnosed with Lyme disease, according to the Centers for Disease Control and Prevention.
But because not all cases are reported and not everyone knows they have been infected, the CDC estimates 476,000 people may get the disease in the U.S. each year.
It is transmitted from the bites of ticks, who pick up the bacteria from feeding on the blood of infected birds, mice and deer. People often get a large red bullseye-like rash around the bites.
If untreated, it can cause nervous system damage, neurological and heart issues, and joint pain. Some patients who receive antibiotics still develop serious health problems.
The threat is growing: Counties classified as high risk for the disease increased more than 300% from the mid-1990s to 2015, according to a report in the Journal of Medical Entomology.
Epidemiologists attribute that to climate change and urbanization: Places that once had winter temperatures that killed the blacklegged vector ticks are now warm enough throughout the year for them to thrive, and growing suburbs put residents closer to the habitats of animals from whom ticks contract the bacteria.
Suing the IDSA
Lisa Torrey and 27 others sued the Infectious Diseases Society of America, or IDSA, seven health insurance companies and several medical doctors in 2017 in Texarkana, Texas, federal court.
Suffering from hearing problems, migraine headaches, and an irregular heartbeat, Torrey said she visited 36 doctors, some of whom misdiagnosed her with multiple sclerosis and fibromyalgia and said her symptoms "were all in her head," before she was correctly diagnosed with Lyme disease.
She blamed her difficulties on the IDSA, a group of more than 12,000 physicians, scientists and public health experts who treat and develop guidelines about appropriate care for infectious diseases.
Bringing RICO Act and antitrust claims, the plaintiffs claim several major health insurers decided treating Lyme disease was too expensive, so they paid IDSA-affiliated doctors to establish arbitrary guidelines, first published in 2000, that said the illness could be treated with 28 days of antibiotics.
The plaintiffs also claim they had trouble finding doctors who would treat them because the IDSA and insurers referred physicians who criticized the guidelines as too restrictive to state medical boards, and more than 50 were investigated, disciplined or had their licenses removed.
Controversy
Long-term Lyme disease has been a subject of controversy for years.
The IDSA's 2000 guidelines said there was insufficient evidence to regard chronic Lyme disease as a separate diagnosis.
Its 2006 guidelines stated, "In many patients, post-treatment symptoms appear to be more related to the aches and pains of daily living rather than to either Lyme disease or another tick-borne infection."
Torrey says that due to the association's guidance she has been forced to pay hundreds of thousands of dollars to treat her Lyme disease because her insurers have denied her coverage.
After reaching confidential settlements with the insurers, the plaintiffs filed a second amended complaint in January 2021, adding fraudulent and negligent misrepresentation claims against the IDSA and its panelists who wrote the guidelines.
The plaintiffs further whittled their case in April 2021, after lodging a third amended complaint, by dismissing the panelists as defendants and their RICO claims.
U.S. District Judge Robert Schroeder, a Barack Obama appointee, sided with the IDSA in September 2021, first dismissing the challengers' antitrust claims, and their misrepresentation allegations in a separate order two weeks later.
Appeal
Torrey and company appealed to the Fifth Circuit the next month. But the IDSA convinced the New Orleans-based appellate court to dismiss the appeal as premature because plaintiffs' settlements with the health insurers had not been finalized.
The plaintiffs filed another appeal last November and a three-judge panel of the Fifth Circuit heard arguments Thursday.
Representing the Lyme patients, Kendall Speer of the Houston firm Rusty Hardin & Associates said Schroeder had erred by concluding plaintiffs could not win on their misrepresentation claims because the statements in IDSA's guidelines were medical opinions and not held out as facts.
Schroeder also said the plaintiffs' doctors can review the studies and papers cited in the IDSA guidelines and make their own assessments about their accuracy.
But Speer argued her clients' doctors are not capable of exercising their own independent judgment on the proper way to treat chrninonic Lyme disease due to the "substantial power and influence" the IDSA has in dictating how physicians can care for such patients.
Leaning towards dismissal?
U.S. Circuit Judge Kyle Duncan indicated he is leaning towards affirming dismissal of the lawsuit.
"My concern here is there has to be a forum for debating scientific questions," the Donald Trump appointee told Speer. "And this is a scientific question — how to treat this. We all know that. There has to be a forum for that. And we can't have lawsuits against people who are debating the scientific question in a forum."
The IDSA's counsel, Alvin Dunn, played up Duncan's concerns.
He said the plaintiffs themselves have acknowledged in their filings the IDSA's guidelines are part of an ongoing scientific and medical debate, which by its nature is subject to change.
"New evidence can always come along, new drugs can come along, new treatments can come along, if you allow these misrepresentation claims it's very dangerous to quash that debate," argued Dunn, who is with the Washington firm Pillsbury Winthrop Shaw.
Speer, the challengers' lawyer, countered it is plausible doctors are effectively bound by the guidelines, evidenced by the fact more than 12 states have passed legislation to protect physicians' ability to prescribe long-term Lyme treatment.
U.S. Circuit Judge Edith Jones, a Ronald Reagan appointee, asked Speer if the legislation was meant to force insurers to cover this treatment.
"Yes, I think it's tied together," Speer replied. "I think it's because of the harm the public is suffering because of the ability to get the care, so I think those states have recognized that."
U.S. Circuit Judge Carl Stewart, a Bill Clinton appointee, filled out the panel.
The judges gave no word on when they would issue a ruling.
SOURCE: Courthouse News Service