Upcoming screenings of The Quiet Epidemic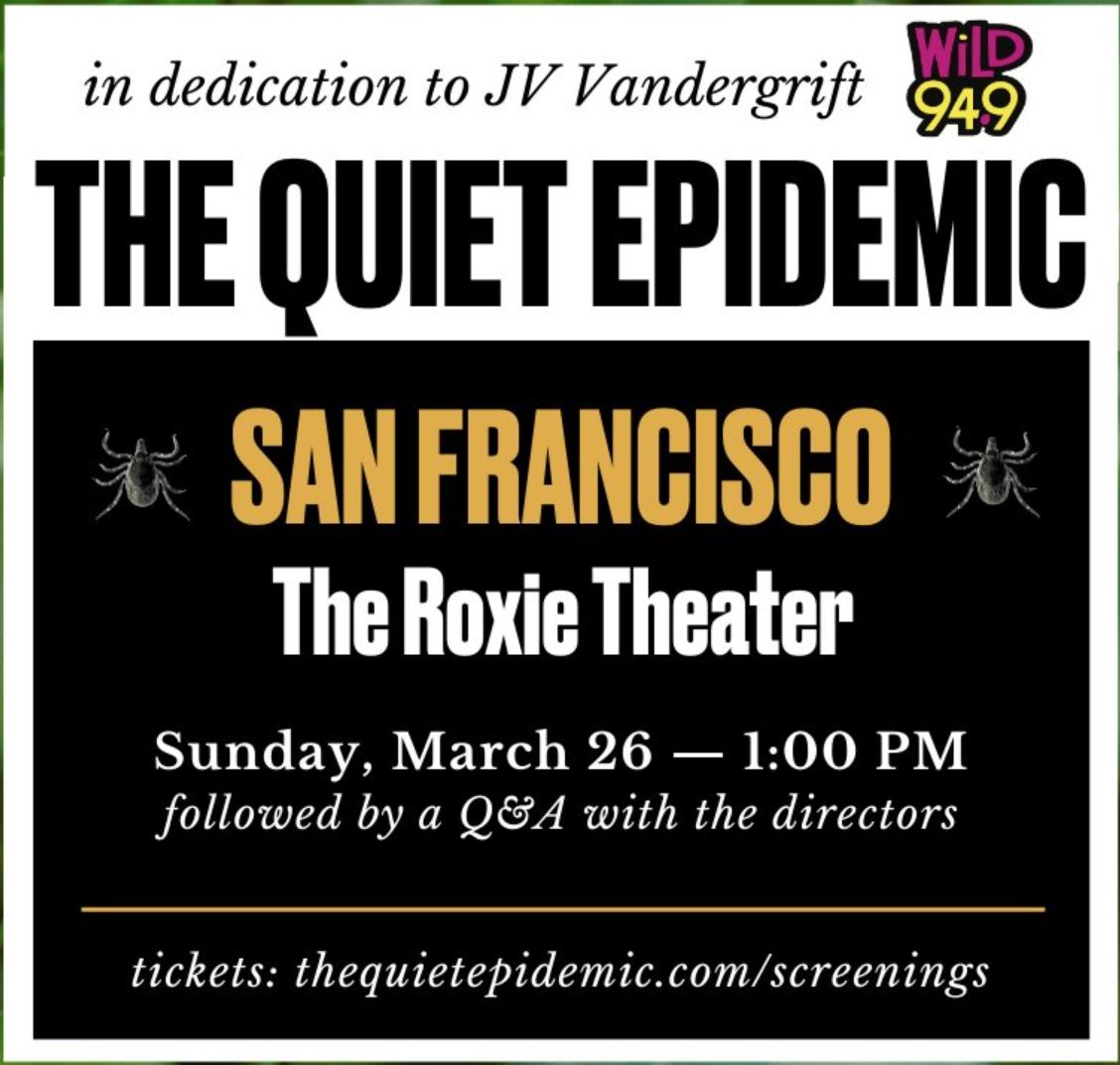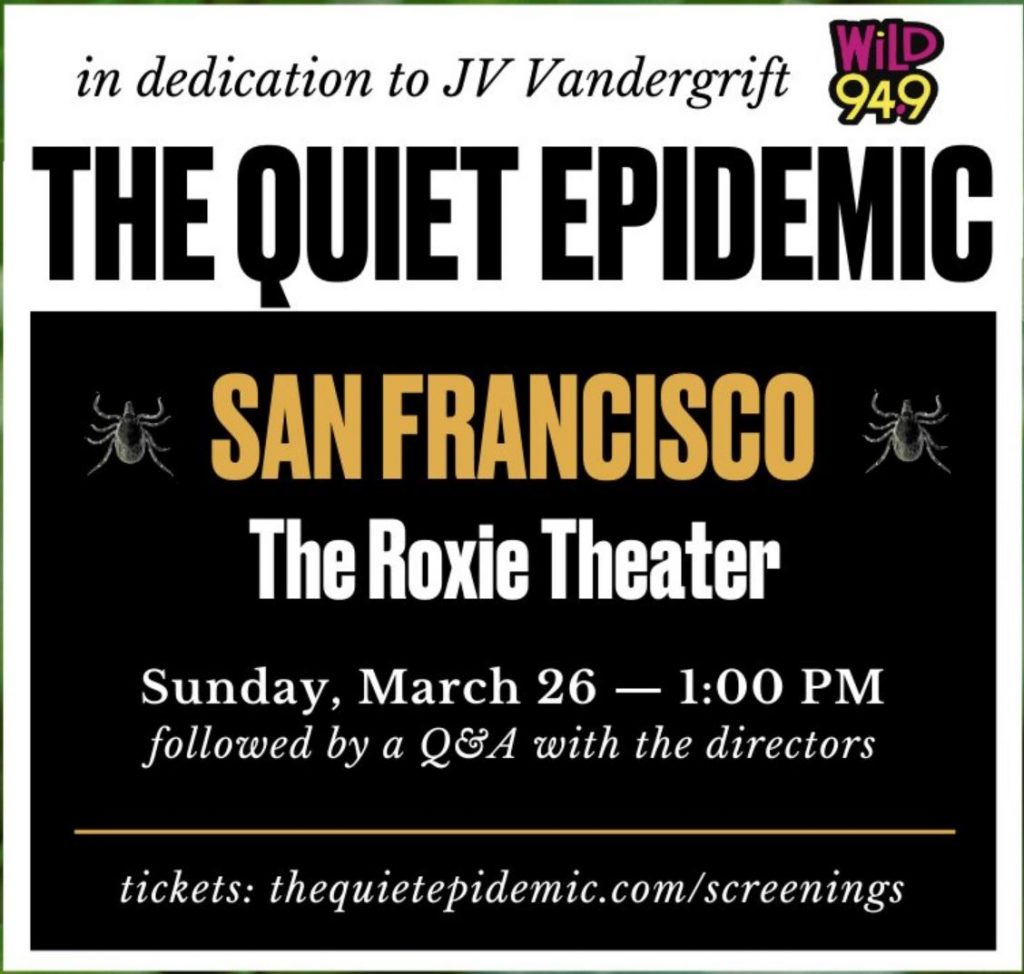 From the makers of the Lyme documentary The Quiet Epidemic:
The Quiet Epidemic is returning to San Francisco for a screening at the Roxie Theater. Please join us on Sunday, March 26th at 1:00 PM to learn more about tick-borne illness and be a part of the change.
This screening is especially emotional and meaningful, as the Bay Area grieves the loss of Jeffrey "JV" Vandergrift—their beloved friend, and WILD 94.9 morning show host and DJ.
JV has been missing since Feb. 23rd and his wife, Natasha, recently shared that she doesn't believe he is coming back. (Update: Sadly, on March 23, authorities confirmed that JV has died. Click here for details.)
JV was a supporter of The Quiet Epidemic and was in touch with our team. It's incredibly sad that we won't have a chance to meet him. We hold him and his loved ones in our hearts as we continue pushing our story and cause out into the world. This screening is dedicated to JV, his family, friends, 94.9 family, and listeners.
Details of screenings
March 26 — San Francisco, California — The Roxie Theater @ 1:00 PM — followed by a Q&A with TQE co-directors Lindsay Keys and Winslow Crane-Murdoch
March 31 — Hamilton, New York — Colgate University @ 5:00 PM — hosted by Colgate University and followed by a roundtable discussion with faculty
April 13 — Baker City, OR– Churchill School @ 5:30pm–hosted by Baker County Health Dept. w/ Q&A
April 27 — Jacksonville, FL –University of North Florida – University Center |6:00pm–Hosted by Florida Lyme Disease Association & Project Lyme
April 30–Folsom, CA–Folsom High School Auditorium–1 PM–Hosted by the Lyme Fight Foundation
April 30— Richardson, TX–Alamo Drafthouse @ 4 PM–Hosted by Texas Lyme Alliance
May 3 — Broomfield, CO –Broomfield Auditorium @ 5 pm– Hosted by CO Tick-Borne Disease Awareness Assoc. w/ Q&A
May 5 — Salida, CO –Salida Steam Plant Theater @ 5 pm– Hosted by CO Tick-Borne Disease Awareness Assoc. w/ Q&A
May 10 –Buena Vista, CO–Stardust Theater @4:30 pm– Hosted by CO Tick-Borne Disease Awareness Assoc.
May 10 –East Aurora, NY–Aurora Theater @ 6 pm–Hosted by Lyme WNY
May 21 –Glen Falls, NY–Charles R. Wood Theater @ 2 pm
May 2 –Kent, CT–Kent Memorial Library @ 6 pm–Hosted by Kent Memorial Library w/Q & A