TOUCHED BY LYME: Yes, the IDSA noticed us in San Diego
A valiant group of Lyme activists braved a record-breaking heat wave in San Diego Oct. 9-10 to protest outside the Infectious Diseases Society of America's annual conference. Our long-term goal remains the revision of the IDSA's odious guidelines, which make it so difficult for people with Lyme disease to get the medical treatment they need and deserve.
Our short-term goal was to catch the attention of individual members of the IDSA and inform them about how destructive their organization's policies are to Lyme patients. (It always amazes me to realize that many individual members of the IDSA know nothing about the controversy concerning Lyme and the IDSA's part in it.)
The protest in San Diego was jointly sponsored by LymeDisease.org, the Mayday Project, and the San Diego Lyme Disease Support Group. Here's some of what happened:
Thanks to a generous donor, we once again hired a billboard truck to circle the vicinity of the convention center daily, 9-5, throughout the conference. (See above.)
We incorporated that same message into a Twitter campaign. According to Symplur Hashtags, a company that measures such things, @Lymenews (that's us) was one of the "top influencers" of those tweeting with IDSA's hashtag "IDWeek2015." (Click here for more info about that.)

We were stationed in between the Convention Center and the entrance to San Diego's historic Gaslamp District. So conference participants had to walk by us on their way to local lunch spots.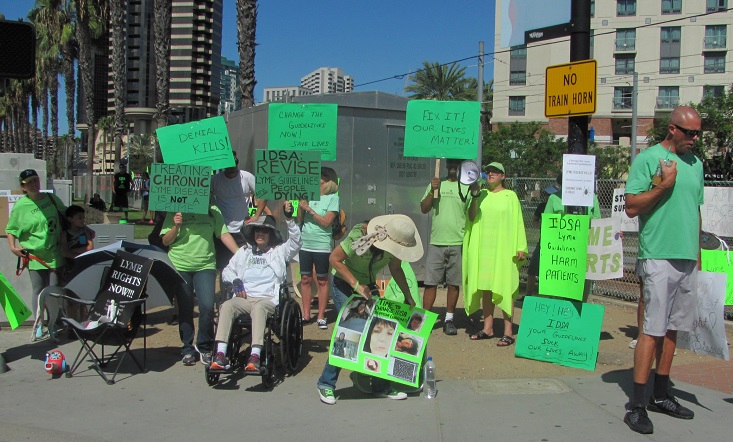 We were also right next to the Gaslamp trolley station, which offered both pros and cons. Good: great access for people riding the trolley to the protest. Also, because folks crossing the street often had to wait for the signal arm to rise, they spent their time listening to our message! Not so good: The noise from trains and alert bells was a constant presence.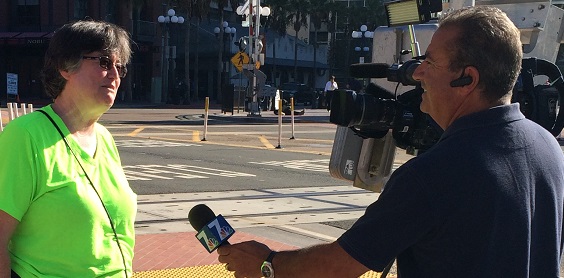 On Friday, I was interviewed by San Diego's local NBC station and it was shown several times on the local news.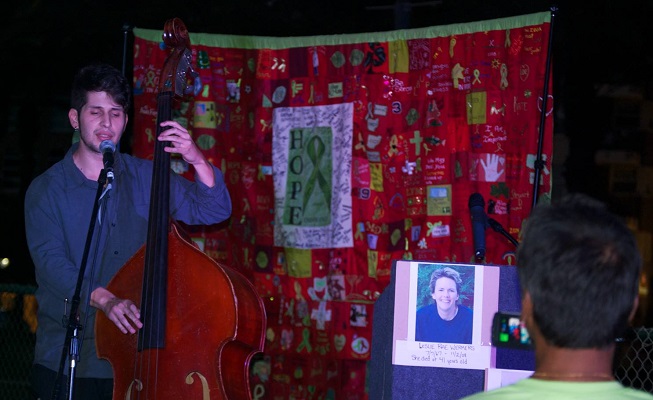 Friday evening, we held a candlelight vigil to honor those who have died from Lyme disease. There was beautiful music, several speakers, the West Coast dedication of The Lyme Quilt, and the reading of names of people who have passed away from Lyme-related causes.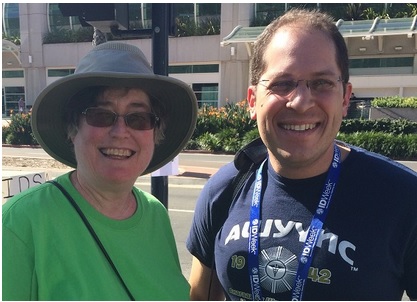 To our surprise, on Saturday, Dr. Paul Lantos, one of the IDSA's top Lyme guys, walked across the street to shake hands and chat with a few of us. I don't kid myself that we said anything to change his mind, but he listened respectfully.
Dr. Lantos asked me to name my top concern, and I said, "Well, for starters, why in the world did you choose a 'consumer representative' for the review panel who knows nothing about Lyme disease?" He said, "We're actually doing something about that. Stay tuned."
I asked him if he was familiar with the extensive comments that LymeDisease.org had submitted to the IDSA last spring, representing almost 100 Lyme disease patient groups. He said, "I read every word."
He gave no details but said the IDSA will be giving a response to the public comments soon. Will they #GetItRightThisTime? (I must admit I'm dubious.)
Other highlights include meeting the other people who came to the protest. Here are a sampling of photos. We'll post more on our Facebook page soon.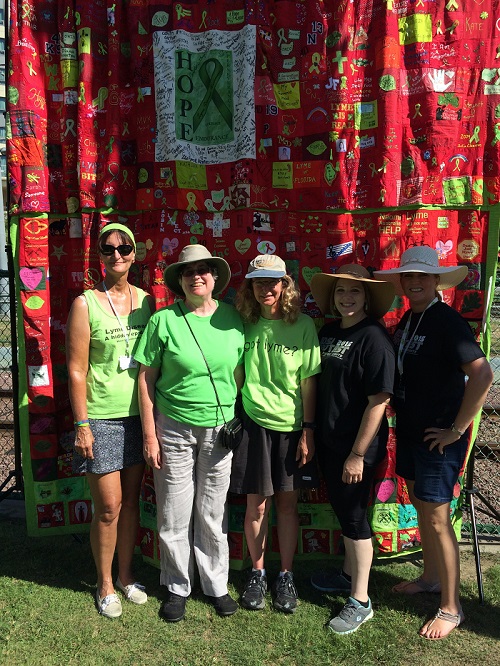 Organizers of the event, standing in front of the traveling Lyme Quilt. (Green squares memorialize those who have died. Red squares acknowledge those who are still dealing with Lyme.) From left: Maritza Padgett, of the San Diego Support Group; Dorothy Leland and Sandi Bohle of LymeDisease.org; Crystal OBarr and Alison Caruana, of The Mayday Project.
TOUCHED BY LYME is written by Dorothy Kupcha Leland, LymeDisease.org's VP for Education and Outreach. She is co-author of When Your Child Has Lyme Disease: A Parent's Survival Guide. Contact her at dleland@lymedisease.org. On Twitter, she's @dorothyleland.