Take your PICC: Increasing the safety of long-term IVs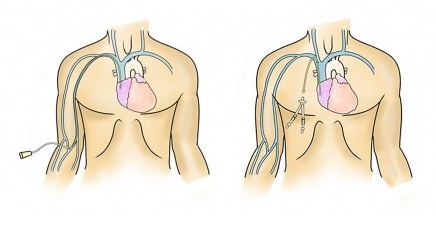 From the University of Michigan:
More than a billion times a year, doctors and nurses insert tiny tubes into the veins of American hospital patients, so they can deliver lifesaving medicines, give fluids and nutrition, monitor key vital signs, and help patients with conditions ranging from cancer and pain to kidney failure and serious infections.
But these same devices carry risks as well as benefits – especially those designed to stay in the body for days or weeks, called PICCs, ports and central lines. They tunnel deep into the bloodstream, providing a gateway for microbes and a place for dangerous clots to form. Yet despite their widespread and rapidly growing use, no clear guide has existed for which kind of device to use, in which patient, for the best and safest result — and which to avoid at all costs.
Until now.
A brief overview of the reason the MAGIC criteria came to be -and what they include.

In the new issue of Annals of Internal Medicine, a team led by University of Michigan Medical School and VA Ann Arbor Healthcare System experts presents the first comprehensive guide to using intravenous, or vascular access, devices of all kinds.
They call it MAGIC, or Michigan Appropriateness Guide for Intravenous Catheters. Based on an exhaustive review of evidence, and the expertise of top international experts in a wide range of fields, it gives clinicians an easy-to-use framework to pick the right device for each adult patient.
"PICCs, or peripherally inserted central catheters, have become especially convenient to place, and their use has gone up dramatically – as have the complications from them. The easiest way to prevent these complications is not to place a PICC in the first place. So we set out to determine when the use of a PICC is appropriate, and when other choices are the best," says lead author Vineet Chopra, M.D., M.Sc., who has studied risks from PICCS for years.
He and several of his co-authors are members of the Patient Safety Enhancement Program, a joint U-M/VA effort, and of the U-M Institute for Healthcare Policy and Innovation.
The MAGIC criteria are based on experts' review of more than 600 scenarios of different kinds of patient and treatments, and provide color-coded charts or algorithms to indicate which devices are appropriate or inappropriate in each case.