The six stages of healing persistent Lyme, with Gregg Kirk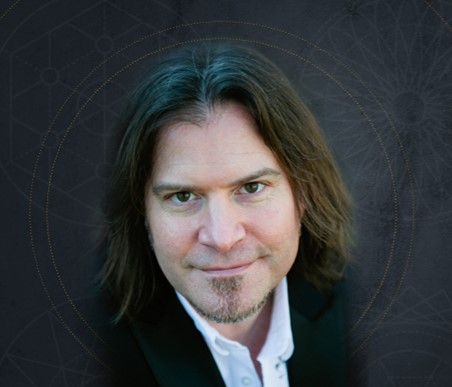 By Fred Diamond
When I first began educating myself about what family members need to know about persistent Lyme, one of the books that had an impact on me was Gregg Kirk's "The Gratitude Curve: Using the Lessons of Chronic Illness to Reach Personal Empowerment."
In my book, "Love, Hope, Lyme: What Family Members, Partners, and Friends Who Love a Chronic Lyme Survivor Need to Know," I featured a chapter on his six stages of healing.
Gregg will host a viewing of the Lyme documentary film "The Quiet Epidemic" this Friday evening in Wilmington, Delaware. We will both be signing our books at the event. Proceeds will go to The Ticked Off Foundation, a charity he created and runs. Go here for more information.
On this week's episode of the "Love, Hope Lyme" podcast, Gregg details his healing journey, which included Western medicine treatment, herbals, and alternative healing means.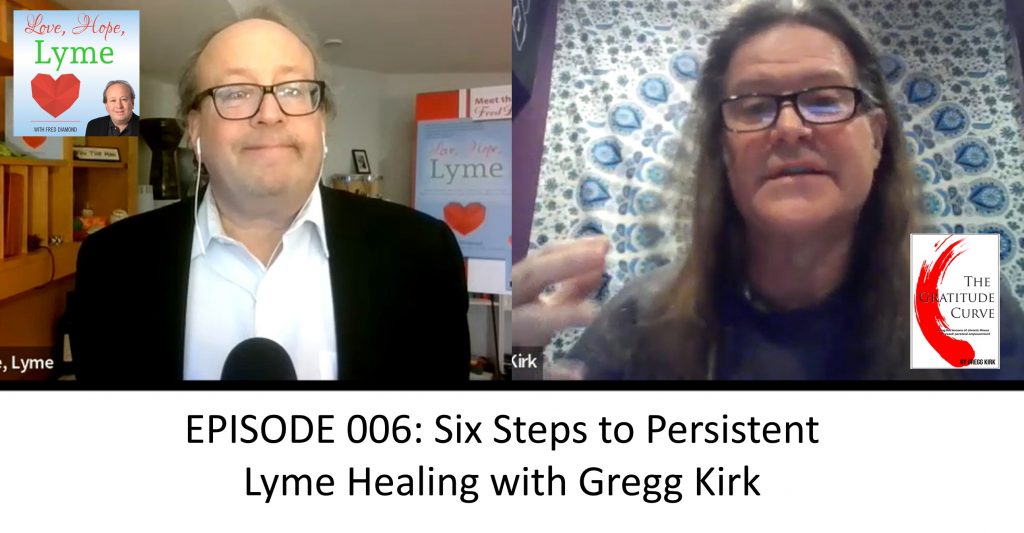 "There are commonalities in everyone's healing journey," he said, "However, not everybody starts in the same place and not everybody ends in the same place."
The six stages Gregg discovered are loosely based on Elizabeth Kubler-Ross' grief healing steps. They are Discovery, Disillusionment, Treatment, Anger and Panic, Acceptance, and Gratitude, the final step of which ultimately inspired his book.
Gregg said, "If you make it through all these stages, not necessarily linearly, and you're grateful for your rough experience because it changed you as a person in a positive way, then you can be in a much better place. Somebody in the early stages who hears, 'You're going to be grateful for the horrible things you're going through now,' might make them angry. There's a stage for anger and panic, so, you must get through that one."
Discovery and Disillusionment
The first stage is Discovery. Gregg said it took him two years to confirm his ailment was Lyme disease, although some Lyme survivors are known to have taken decades to be properly diagnosed.
"It's very common in the Lyme world to wonder what is going on with you, and that's what happened with me. Unfortunately, since it's hard to test for, doctors may say, 'Are you depressed? Maybe you're crazy.' That happened with me, and I said, "I know I'm not crazy. I have these feelings and I have these symptoms."
The second phase is Disillusionment. This will often be a challenging phase for many people because Gregg said many doctors are not trained in Lyme treatment, including doctors you've trusted your entire life. Many persistent Lyme survivors will see that many doctors, such as rheumatologists and infectious disease doctors may contend that "chronic Lyme" does not even exist.
"It can be a frustrating stage because they'll just treat your symptoms without getting to the root cause and you'll never get better," he declared.
Treatment, Anger and Panic Stages
Gregg said that even though you were diagnosed with Lyme disease, the prescribed treatment may cause problems, such as the Herxheimer reaction. This painful process occurs when the bacteria and pathogens are being killed and toxins are released into your body.
"I was told at this stage to tough it out, which was a shocking thing to hear. None of my doctors suggested I back off the treatment. They just said, 'plow ahead!"
"Treatment is as unique as your fingerprints. What works for somebody will not work for somebody else. I had to learn this myself and I became accountable for my treatment," he said. "You're the authority about what's best for you. I know that may be a tough thing for some patients to hear. That's the thing about the disease. It can take you up or it can take you down. It can make you bitter, it can make you better."
"The quicker you get out of the next stage – anger and panic – the better because when you're in fight or flight, your autonomic nervous system is firing. It's almost impossible to heal when you're in this constant state of anger and panic. Adrenaline and cortisol are firing throughout your body. You don't feel well, and you get mad at people a lot. You drive the people away who are trying to support you. I did that," he said.
When he realized he felt normal listening to music or watching comedy, Gregg said he took action to get out of this stage. He set up the Ticked Off Foundation, a not-for-profit patient support program. "We're not like any of the others. We literally sit down with each patient for an hour and find out what's going on with them and give them some options on how we can best help them," he said.
Acceptance and Gratitude
Gregg said, "You may realize you've been angry for a long time, and you realize you can't go through life in despair every day. Accepting where you are and then moving beyond it can bring you joy in your life."
"Try something different. Try the opposite. Forget about the disease. Start looking to rejoining your life," he said. "There was a day when I was paying more attention to my life and less attention to the disease and that's when shifts started to happen in my body. Treatment started to work better and that's when the gratitude started coming in."
"Here's the bottom line," he said. "You have a life that is destroyed by this illness. I was grieving my life. But then I thought, 'I really love my life.'"
"In my book, I said this disease is like a forest fire. It burnt my life to the ground. But forest fires are good for a forest. It burns away the dead wood and leaves you room for new growth. It burnt my life to the ground. I didn't like it. It made me feel horrible. But once I just accepted that it happened, I realized that I have a new life that I love."
He said, "And I have a better life than I had before Lyme disease. So, I'm grateful for it."
Click here to listen to all episodes of the "Love, Hope, Lyme" Podcast.
Fred Diamond is based in Fairfax, VA and can be contacted via Facebook. His book, "Love, Hope, Lyme: What Family Members, Partners, and Friends Who Love a Chronic Lyme Survivor Need to Know" is available on Amazon. The e-version of the book is always free to Lyme survivors. Reach out to Fred on Facebook for your copy.