NEWS: Challenging the IDSA's "one-dose" method for preventing Lyme disease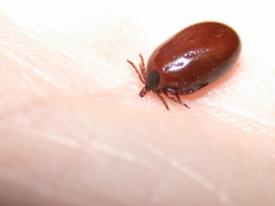 The Wisconsin Medical Journal has published a paper challenging the IDSA's recommendation for giving a single dose of antibiotics after a tick bite to prevent possible Lyme disease. Written by Dr. Elizabeth Maloney, who trains doctors how to treat Lyme disease, the paper asserts that a 20-day preventative course of antibiotics is much more effective at heading off Lyme.
From Milwaukee News Buzz:
Is Lyme disease prevention faulty?
By Matt Hrodey, April 11, 2011
A new paper published in the Wisconsin Medical Journal challenges what is a commonly-accepted method for preventing Lyme disease – a single dose of an antibiotic given to a patient bitten by a deer tick in a region with a high incidence of the illness. Wisconsin is one of several states where the disease, believed to be on the rise, is most common.
The paper by Elizabeth Maloney, a former family physician who now works in the Minneapolis area as a Lyme disease trainer for doctors, says patients should strongly consider a 20-day course of antibiotics, not the one-dose approach espoused by the Infectious Diseases Society of America.
Maloney says the IDSA's recommendation "has some serious limitations" and that animal studies show a longer regimen of medication would nearly eradicate any chance of contracting the illness.
Read the rest of the article here.