NIH awards $3.2 million for "post-treatment Lyme" research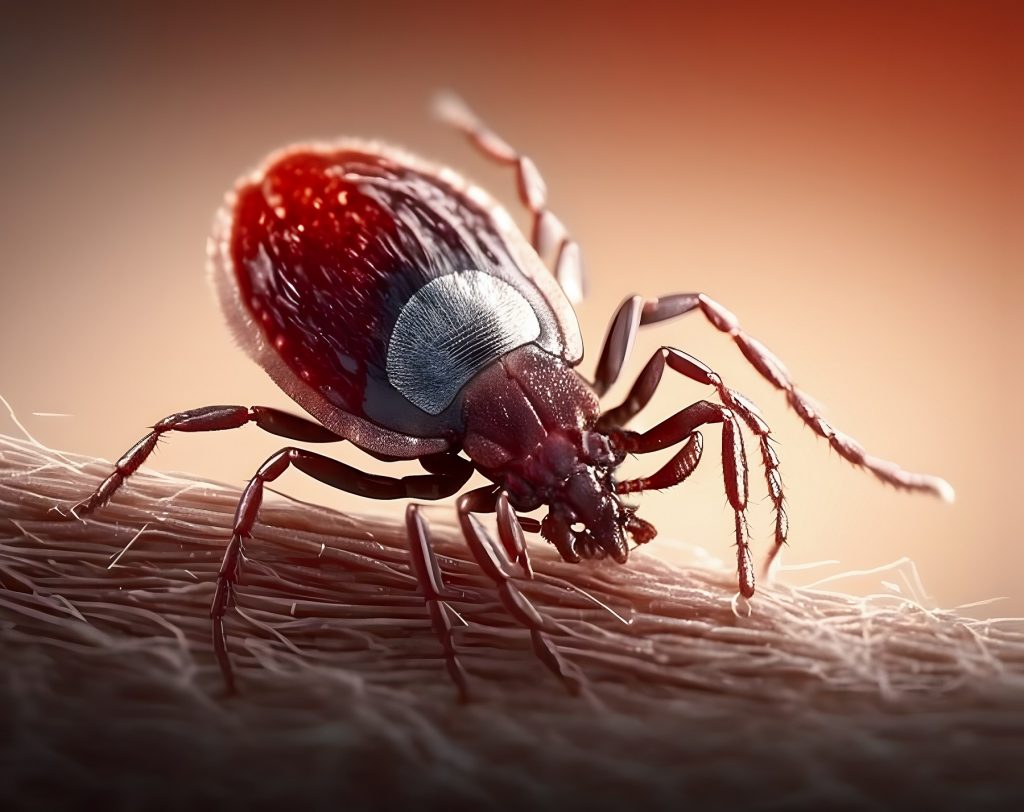 The National Institute of Allergy and Infectious Diseases (NIAID), part of the National Institutes of Health, has awarded five projects for research to better understand Post-treatment Lyme Disease Syndrome (PTLDS).
PTLDS is a collection of symptoms, such as pain, fatigue, and difficulty thinking or "brain fog," which linger following standard treatment for Lyme disease.
The Centers for Disease Control and Prevention estimates that 476,000 people in the United States are infected with Lyme disease each year. Between 10 and 20% of them experience PTLDS.
Finding the root cause
"As tick-borne diseases, including Lyme disease, become more common and widespread in the United States, it is increasingly urgent that we understand all facets of the disease, including the root causes of PTLDS," said Acting NIAID Director Hugh Auchincloss, M.D.
"We anticipate that the research supported by these awards will provide vital information on how to diagnose and treat this complex set of symptoms."
Lyme disease is caused by a bacterium, Borrelia burgdorferi (and related species) that is transmitted by the bite of an infected tick. The classic sign of early-stage Lyme disease is a distinctive bull's-eye-shaped rash surrounding the tick bite.
If not cured in its early stage, infection can advance to late-stage disease, which can be associated with fatigue, severe headaches, dizziness, facial paralysis and heart problems, as well as joint, tendon, muscle and nerve pain.
Most cases of Lyme disease can be effectively treated with oral antibiotics. However, some patients suffer from symptoms that linger long after the initial course of antibiotics, even though the active infection appears to be gone.
The cause of PTLDS is unknown, but scientists hypothesize that it may be due to a misguided immune response to Borrelia burgdorferi where the immune system attacks the patient's own cells; an ongoing Borrelia burgdorferi infection that is difficult to detect; or some other reason.
Other infection-associated chronic illnesses
Broadening our understanding of PTLDS may also contribute to our knowledge of a broader set of infection-associated chronic illnesses, such as long COVID and myalgic encephalomyelitis/chronic fatigue syndrome (ME/CFS). Without understanding the biologic processes of these conditions, it will be very difficult to develop effective clinical interventions.
The new NIAID awards for PTLDS, which will total approximately $3.2 million in first-year funding, will support work on possible causes of persistent PTLDS symptoms for five years. The award recipients are:
Virginia Tech, Blacksburg
Project title: The natural release of unusual peptidoglycan fragments drives persistent Lyme disease symptoms in susceptible hosts
Principal investigator: Brandon Jutras, Ph.D.
Grant: 1 R01 AI178711-01
Massachusetts Institute of Technology, Cambridge
Project title: Unlocking serology's secrets: harnessing novel immune biomarkers to predict Lyme disease progression and recovery
Principal investigator: Michal Tal, Ph.D.
Grant: 1 R01 AI178713-01
Tufts University, Boston
Project title: Auto-antibodies as predictive markers for Post-treatment Lyme Disease Syndrome
Principal investigator: Linden Hu, M.D.
Grant: 1 R01 AI178725-01
Johns Hopkins University, Baltimore
Project title: Determinants of post-treatment phenotypes in Lyme disease
Principal investigator: John Aucott, M.D.
Grant: 1 R01 AI178726-01
Arizona State University, Tempe
Project title: Discovery of early immunologic biomarkers for risk of PTLDS through machine learning-assisted broad temporal profiling of humoral immune response
Principal investigator: Neal Woodbury, Ph.D.
Grant: 1 R01 AI178727-01
NIAID conducts and supports research—at NIH, throughout the United States, and worldwide—to study the causes of infectious and immune-mediated diseases, and to develop better means of preventing, diagnosing and treating these illnesses. News releases, fact sheets and other NIAID-related materials are available on the NIAID website.
About the National Institutes of Health (NIH): NIH, the nation's medical research agency, includes 27 Institutes and Centers and is a component of the U.S. Department of Health and Human Services. NIH is the primary federal agency conducting and supporting basic, clinical, and translational medical research, and is investigating the causes, treatments, and cures foSOURr both common and rare diseases. For more information about NIH and its programs, visit www.nih.gov.
SOURCE: The National Institutes of Health