NEWS: Blumenthal hearing gives voice to Lyme patients' frustrations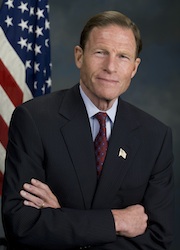 "What more needs to happen before this illness is taken seriously?" asked one speaker at the Connecticut hearing
Press release from Lyme Research Alliance (formerly Time for Lyme):
Stamford, CT  August 31, 2012
At a crowded U.S. Senate field hearing chaired yesterday by Sen. Richard Blumenthal, D-CT, Lyme disease patients, researchers, and health care providers expressed frustration about the lack of progress in preventing, diagnosing and combating Lyme, the fastest-growing vector-borne infectious disease in the U.S.
"What more needs to happen before this illness is taken seriously?" asked Katy Reid, of Ridgefield, one of three Lyme sufferers who spoke at the hearing. Reid, the facilitator of a support group for chronically ill young adults with tick-borne diseases, said she had first testified at a Lyme disease hearing in 2004 with then-Attorney General Blumenthal. Now, eight years later, she said she wonders "how many times we can document the pain of constituents without change."
Reid and the others who spoke at the hearing held at the University of Connecticut, Stamford told Blumenthal that there is an urgent need for a reliable diagnostic test for Lyme and research into new treatments. Mark Hopwood, of Trumbull, said that over 18 months, he went to 10 different doctors before receiving the proper diagnosis. "I was erroneously diagnosed with everything from a sinus infection to a tumor that required brain surgery," he said. Dwight Harris, of Burlington, said it took him 14 years before he was finally diagnosed by a Lyme literate doctor. During that period, his condition "deteriorated to the point that I did not want to live," he said.
According to the U.S. Centers for Disease Control, there were 30,000 cases of Lyme in 2009, but the CDC acknowledges the actual number may be over ten times as high due to underreporting. In May, a study published in the Journal of the Proceedings of the National Academy of Sciences found that the number of Lyme disease cases continues to increase across the Northeast and Midwest even though the deer population, the dominant host for disease-carrying ticks, has stayed fairly flat.
Last year Sen. Blumenthal introduced the bipartisan Lyme and Tick-borne Disease Prevention, Education, and Research Act, that would establish a federal advisory committee on Lyme issues, increase educational and research efforts and provide more resources to fight the illness. The legislation is co-sponsored by Sen. Kirsten Gillibrand (D-NY) who also testified at yesterday's hearing. She said the lack of a reliable test for tick-borne diseases has led to a "crisis that has gone ignored for far too long."
Blumenthal said he hoped yesterday's hearing would "galvanize" Congressional support for the legislation, but moving it forward during the current session is unlikely. "Lyme disease is a pervasive and pernicious public health disaster," he said. "Inadequate diagnosis and reporting cause devastating damage to countless individuals every day. This hearing further underscored the urgent need for a strong national initiative to combat Lyme disease."
After the hearing, Lyme Research Alliance (formerly Time for Lyme) co-president Diane Blanchard said she was pleased that the Senate held the hearing to provide legislators with a more in-depth understanding of the issues. "We look forward to the day when we have a reliable diagnostic tool and can save hundreds of thousands of people from needless suffering," she said. "In the meantime, the work of the private sector in raising funds to better understand and tackle this complex disease becomes more important than ever."