TOUCHED BY LYME: Are you a Minnesota Lyme patient? If so, MLA needs you.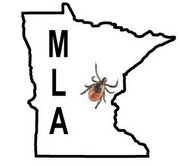 Minnesota Lyme Association seeks feedback from state residents who have had long-term antibiotics for Lyme disease.
In 2010, Minnesota's medical board gave doctors in that state a five-year window in which they can treat Lyme patients with long-term antibiotics without fearing they'll lose their license because of it.
The five-year moratorium was a compromise reached between the Minnesota Board of Medical Practice (MBMP) and state legislators who wanted to protect Lyme doctors from prosecution.
It's now almost two years into that 5-year period, and the Minnesota Lyme Association wants to document how long-term antibiotics have helped Lyme patients in their state. MLA medical adviser Dr. Elizabeth Maloney is spearheading the project.
Dr. Maloney wants to present the MBMP with a single report containing the outcomes from individual patients, as documented in their medical charts. This is called a collection of case reports and is recognized as scientific evidence.
According to the MLA, "Validating the efficacy of long-term treatment to the MBMP and the state legislature will make the case for continuing the moratorium, to the benefit of current and future Lyme disease patients."
Although the moratorium runs another 3 years, Dr. Maloney needs to start compiling this information now. It's a time-consuming project that can't be done at the last minute.
If you currently have or had Lyme disease and were treated with antibiotics for more than 30 days, and you lived in Minnesota during a portion of your treatment, the MLA wants to hear from you!
.
TOUCHED BY LYME is written by Dorothy Kupcha Leland, LymeDisease.org's VP for Education and Outreach. Contact her at dleland@lymedisease.org.
.