TOUCHED BY LYME: Foundation shines light on Lyme in Australia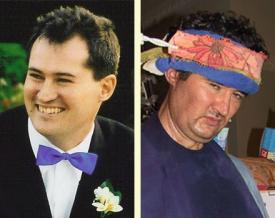 The widow of a man who died from complications of Lyme–even though officials say the disease doesn't exist in Australia–has formed a foundation in his memory. The Karl McManus Foundation aims to help increase recognition of tick-borne diseases in Australia, so that patients can get properly diagnosed and treated.
Karl McManus was a television cameraman in Australia who was bitten by a tick in 2007. According to his wife, Mualla Akinci McManus, he started experiencing flu-like symptoms within a week, and more extensive symptoms within a month–muscle twitching, muscle wasting, loss of dexterity in his fingers, high sensitivity to light and noise. His doctors diagnosed multi-focal motor neuropathy, and offered treatments that Mrs. McManus says made everything even worse.
As Karl's condition continued to deteriorate, husband and wife did their own internet research, and came to strongly suspect Lyme. But Australian doctors and health officials dismissed that idea, claiming the disease does not exist in Australia. Eventually, Mrs. McManus sent off samples of his blood to a lab in the United States, which came back positive for Lyme, babesia and rickettsia.
Still, Australian health officials would not accept that he was suffering from tick-borne disease. Karl traveled to Germany, and received promising Lyme treatment from a doctor there. But, once he returned to Australia, complications set in and Karl passed away in July 2010. An autopsy found Lyme bacteria in liver, heart, kidney and lungs.
Since her husband's death, Mrs. McManus has formed the Karl McManus Foundation. The following mission statement is posted on its website.
The aim of the Karl McManus Foundation is to erode the barriers to the recognition and treatment of Borreliosis, especially neuroborreliosis, in Australia and to contribute to knowledge in the world about borreliosis and other tick-borne infections.
THE AIMS OF THE FOUNDATION INCLUDE:
1. To facilitate research and raise awareness of Lyme disease (borreliosis and co-infections) and other tick-borne diseases in Australia.
2. Advocate for better testing and treatment of borreliosis and co-infections.
3. Educate doctors and other health professionals about Lyme disease (borreliosis) and co-infections in Australia.
4. Use the media to alert the public about Lyme disease (Borreliosis) and co-infections in Australia.
5. Publicise that there is a potential to misdiagnose Lyme (Borreliosis) as many other serious chronic diseases like Parkinson's disease, motor neurone disease (MND, ALS), multiple sclerosis (MS), Alzheimer's disease, fibromyalgia and ME/chronic fatigue syndrome and autism.
The website includes information about Lyme and ticks in Australia, testing, and resources for people who may have tick-borne disease.
You can contact this blogger at dleland@lymedisease.org.