NEWS: Lyme awareness race car is a finalist in on-line contest; vote now to put it over the top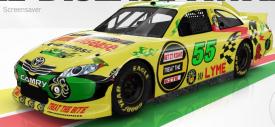 The Lyme race car is in the final round of voting in the Toyota Sponsafier contest. The one with the most votes will get its winning design painted on a race car for an upcoming NASCAR race. You can vote every day until May 1. Get all your friends and family to do it too. If our car wins, it will be great visibility for Lyme disease awareness.
Announcement from "After the Bite":
Lyme Disease Awareness Race Car– A Top Ten Finalist!
Congratulations!  Thanks to you, the Lyme Disease Awareness Race Car was not only number one in the 'Most Votes' category, it was selected by the judges to be one of the Top 10 Finalists! 
So it is TIME TO VOTE AGAIN! 
IMPORTANT-   Each voter may vote for only one (1) car, one (1) time per day, for 10 days (until May 1, 2011).  Please vote!    
On May 2, 2011 the 'Winner Determination' phase begins and judges will pick the winner of the grand prize.  The winning entry will be publicly announced at the All-Star Races in Charlotte, NC on May 20 and May 21, 2011.  (Perfect for May Lyme Disease Awareness Month.)
From Toyota Sponsafier-  "We're happy to let you know you're a winner in the Toyota Racing's Sponsafy Your Ride Contest Round III!  You've won [a] customized helmet featuring your "Sponsafied" car graphics, which has an approximate retail value of $1,250."
The 2011 Racing Lyme Disease Awareness car was designed and entered in the contest in honor of Dr. Charles Ray Jones of New Haven, CT and his "kids" with Lyme disease.  Therefore, the winner's helmet with the Lyme disease awareness design on it, if we are approved pending verification, will be displayed in Dr. Jones office where visitors, parents and his kids can enjoy it.
Again, congratulations for your success in Racing Lyme Disease Awareness and many thanks for voting!
Racing Lyme Disease Awareness Car