THE LYME TIMES: Celebrities turn spotlight on Lyme disease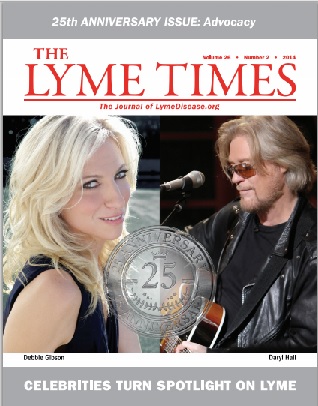 The cover of the latest issue of THE LYME TIMES features entertainers Debbie Gibson and Daryl Hall, who are among the celebrities helping to draw media attention to Lyme disease.
Famous entertainers, sports stars, "Real Housewives"–all are part of the new face of Lyme disease advocacy, helping to raise awareness of the issue.
As we celebrate our 25th Anniversary, The Lyme Times looks at how Lyme disease advocacy has progressed over those years, including the recent rise of celebrities sharing their Lyme stories with the media.
Other topics included in this Advocacy issue:
Worldwide Lyme Protests
"The Lost Decade"–missed opportunities for federal Lyme legislation
Online patient networks
Commentary by Under Our Skin's Andy Abrahams Wilson & Cure Unknown author Pamela Weintrub
Plus much more!
If you are a member of LymeDisease.org, this issue will soon arrive in your mailbox. If not, join today to receive this 25th Anniversary: Advocacy edition.