TOUCHED BY LYME: Teen with Lyme will be featured on ABC's 20/20 show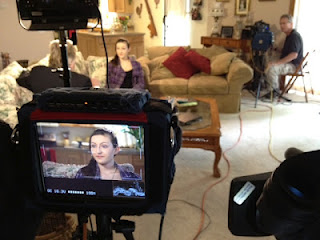 Her YouTube videos caught the attention of ABC news.
Elaina P. is a New Hampshire high school student who has been blogging about her experience with Lyme disease since 2008. Just a couple of weeks ago, her mom posted a couple of Elaina's videos on YouTube, which were noticed by some ABC news producers working on a segment about teens with hard to explain illnesses. One thing led to another, and here's how Elaina explained it in her blog:
"For the past two days I had a national team on my property and in my life to get to know me. They saw my room and watched as I took medicines, wrapped my IV up, prepared for a shower, wrote a new blog entry, visited my miniature horse, ate ice cream, and performed regular activities. Nothing about the experience was regular however. It was surreal having strangers going to and from and putting a microphone on you and following you around. I'm used to just doing my thing pretty quietly but there was nothing quiet about the new visitors."
The show will air this Friday, 10 pm, on ABC News.
Click here to see Elaina's blog and view her videos.
TOUCHED BY LYME is written by Dorothy Kupcha Leland, LymeDisease.org's VP for Education and Outreach. Contact her at dleland@lymedisease.org.
.