LYME SCI: Dog maps provide important clue to human disease risk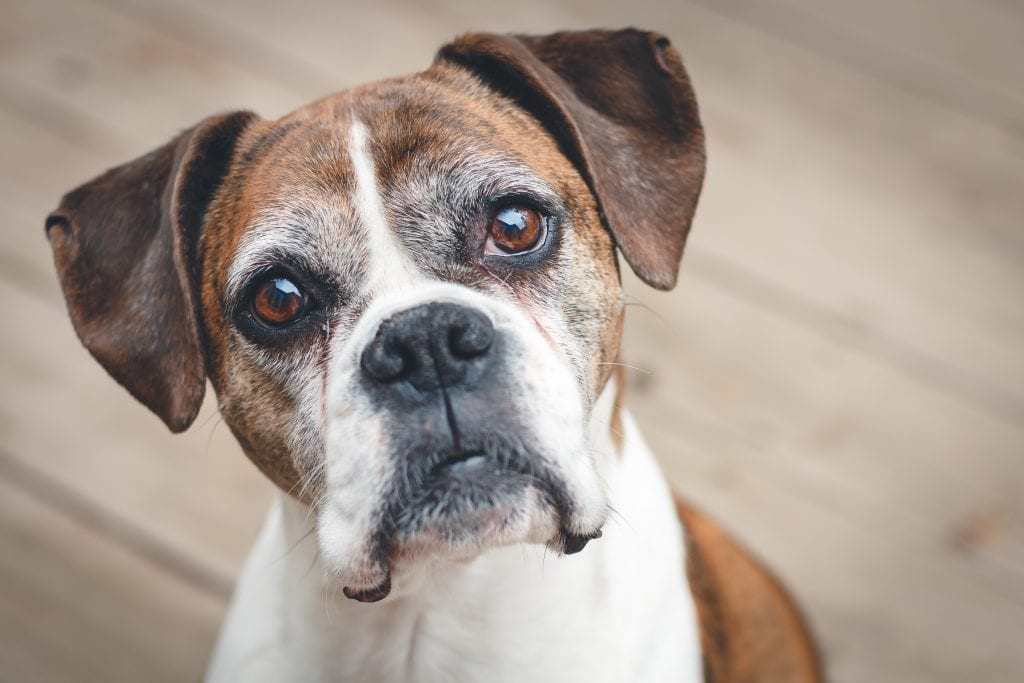 "One Health" is the concept that human health, animal health and the health of the environment are all connected. And that it's important to understand and address health issues in each of these arenas—in order to solve the problems of all.
An important example of this is when you compare maps of canine Lyme disease risk to the CDC's maps of human risk of the illness.
One problem with the maps of human cases lies with the CDC's restrictive reporting criteria. Their maps severely underrepresent the true risk of Lyme and other tick-borne diseases.
Because tick-borne diseases can also cause severe illness in dogs, cats, horses and other livestock, veterinary records may offer a clearer picture of which tick-borne diseases are occurring within a geographic region.
Recently, a group of researchers used veterinary data to predict the incidence of Lyme disease and two other common tick-borne illnesses, Ehrlichiosis and Anaplasmosis, within the US.
The canary in the coal mine
According to Michael Yabsley, a parasitologist at the University of Georgia, "Dogs really are the canary in the coal mine for human infection. Our research team has growing evidence that the relationship between risk of canine infection and human disease is strong."
Fortunately, many dogs are screened for exposure to tick-borne diseases during their annual test for heartworm. These screenings provided researchers a unique opportunity to examine test results from nearly 12 million pets from 2011 to 2015, allowing them to paint a comprehensive, county-by-county picture across the nation.
The researchers combined veterinary test results, US census data and imagery, along with weather forecasts, to create a risk map for these tick-borne diseases. (This kind of graphic representation is called a "heat map.")
Dogs have year-round exposure
Dogs are at greater risk for Lyme and other tick-borne diseases because they spend time outdoors every day. For that reason, dog owners are also at higher risk if their pets bring ticks home.
Ticks have a two-year life cycle and in warmer climates are active year-round. Even in areas with cold winters, ticks can become active whenever temperatures rise above freezing.
Veterinarians recommend that pets be protected from fleas and ticks year-round. Robert Lund, PhD, a professor at Clemson University, says "the bottom line is simple: Parasites pose threats to both pets and people no matter the season, and it's important to guard against them."
Four tests in one
One of the most interesting aspects of the study was the blood test they used. The canine test is called "Lab 4Dx Plus Test" and is made by IDEXX Laboratories. The Lab 4Dx detects antibodies for the following pathogens in one blood sample:
Heartworm
Lyme disease
Anaplasma phagocytophilum
Anaplasma platys
Ehrlichia ewingii
Ehrlichia canis
According researcher Dr. Susan E. Little, "A minimum sensitivity of 90% and a minimum specificity of 90% are required for all canine tick-borne disease antibody assays."
(If we could adapt this technology to human medicine, it would be one of the most helpful diagnostic tools I can imagine! The sensitivity and specificity of "standard" Lyme tests for humans fall woefully short of that requirement.)
Risk of tick bites is coast to coast
Based on many environmental factors, the Companion Animal Parasite Council (CAPC) forecasts that Lyme disease will be highly problematic in 2017. Nationwide, Lyme disease continues to spread into new areas every year and is now established in 50% of all US counties.
Lyme disease is endemic along the Atlantic coast from Washington DC to Maine, and the upper Midwest. The highest incidence occurs in Pennsylvania, New Jersey, New York, Wisconsin, Minnesota, Maryland, Rhode Island, Delaware, Massachusetts, Connecticut, Maine, New Hampshire, Vermont and Delaware.
The map shows the estimated number of dogs that will test positive for Lyme disease. For instance, in the red areas, it's estimated that anywhere from 10% to 100% of dogs will test positive for Lyme. The darker the blue, the lower the risk.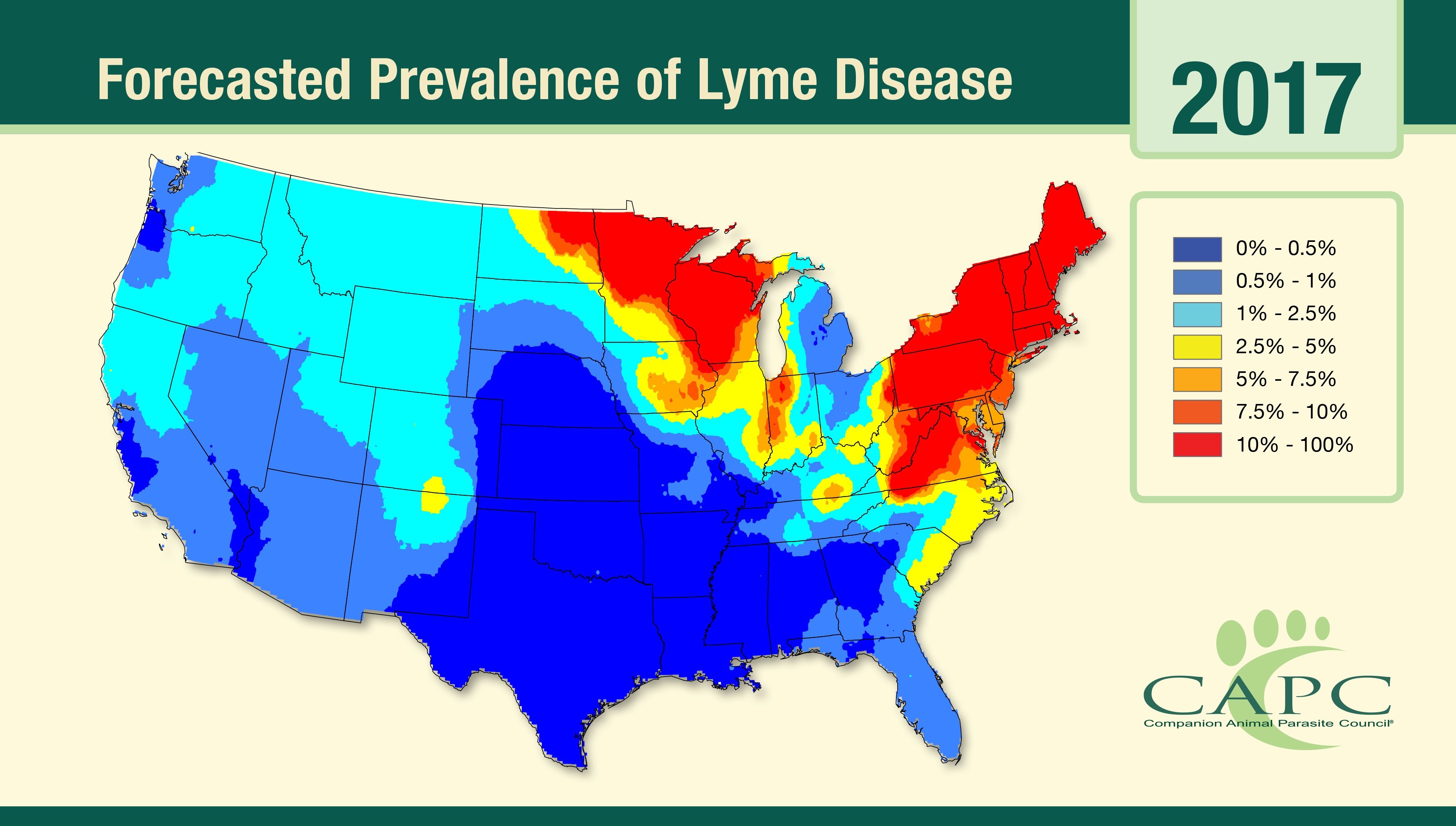 CAPC does not forecast any changes in the prevalence of Anaplasmosis for 2017. High risk areas remain: Northern California, Western Pennsylvania, Wisconsin, Minnesota and New York State. The map shows the estimated percentage of dogs that will test positive for Anaplasma.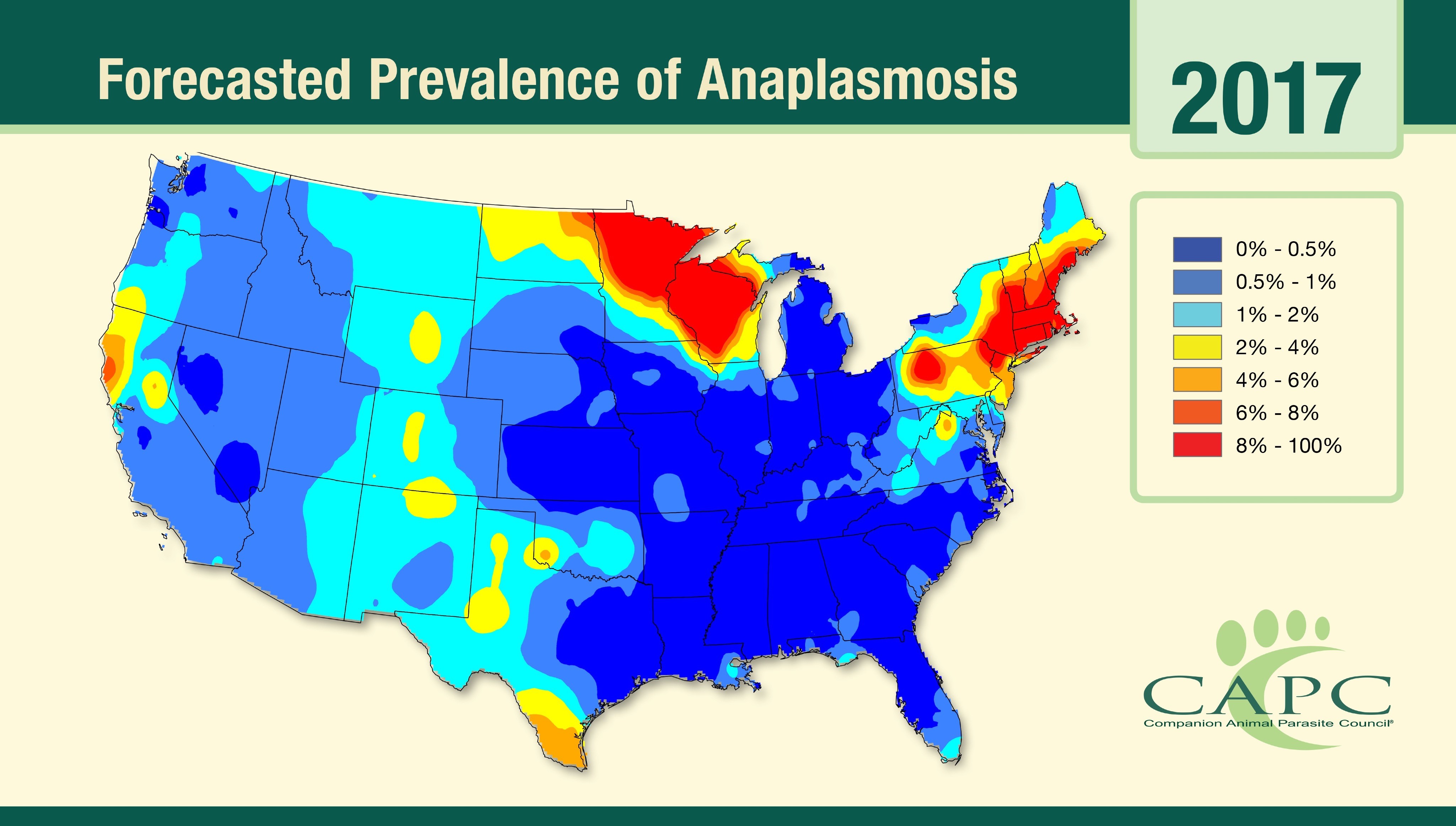 Ehrlichia is geographically very spotty, going from non-existent to endemic within a 200-mile range. Overall, the forecast prevalence for Ehrlichiosis will be higher than normal through much of the southern US.
Eastern Oklahoma is expected to see a very active year in 2017, and the Ohio River Valley, Virginia, North Carolina, Eastern Oregon and Western Montana will see increased activity. The map shows the estimated percentage of dogs that will test positive for Ehrlichiosis.
Symptoms of Lyme disease
According to the American Veterinary Medical Association (AVMA), dogs may not show symptoms of Lyme for two to five months after exposure.  Canine symptoms include:
Fever
Loss of appetite
Lameness
Joint swelling
Decreased activity
*   (see here for symptoms in other animals)
Pets need year-round protection
The  Tick Management Handbook, published by the Connecticut Agricultural Experiment Station, offers several recommendations for protecting your yard and your pets:
Perimeter fencing: keeps pets in and deer out
Perimeter barrier: dry wood chips, pebbles or xeriscaping
Spray perimeter with acaricide: kills ticks
Tick collars (amitraz impregnated): prevents the ticks from climbing on the pet
Monthly topical "spot on" (permethrin) application: kills the tick if it bites the pet*
Monthly topical spray (Fipronil) application: kills the tick if it bites the pet
Monthly oral medication: kills the tick if it bites the pet
Daily tick checks
canine Lyme vaccine: offers protection from one tick-borne disease
*Note: Permethrin is not safe for cats. (see AVMA recommendations here)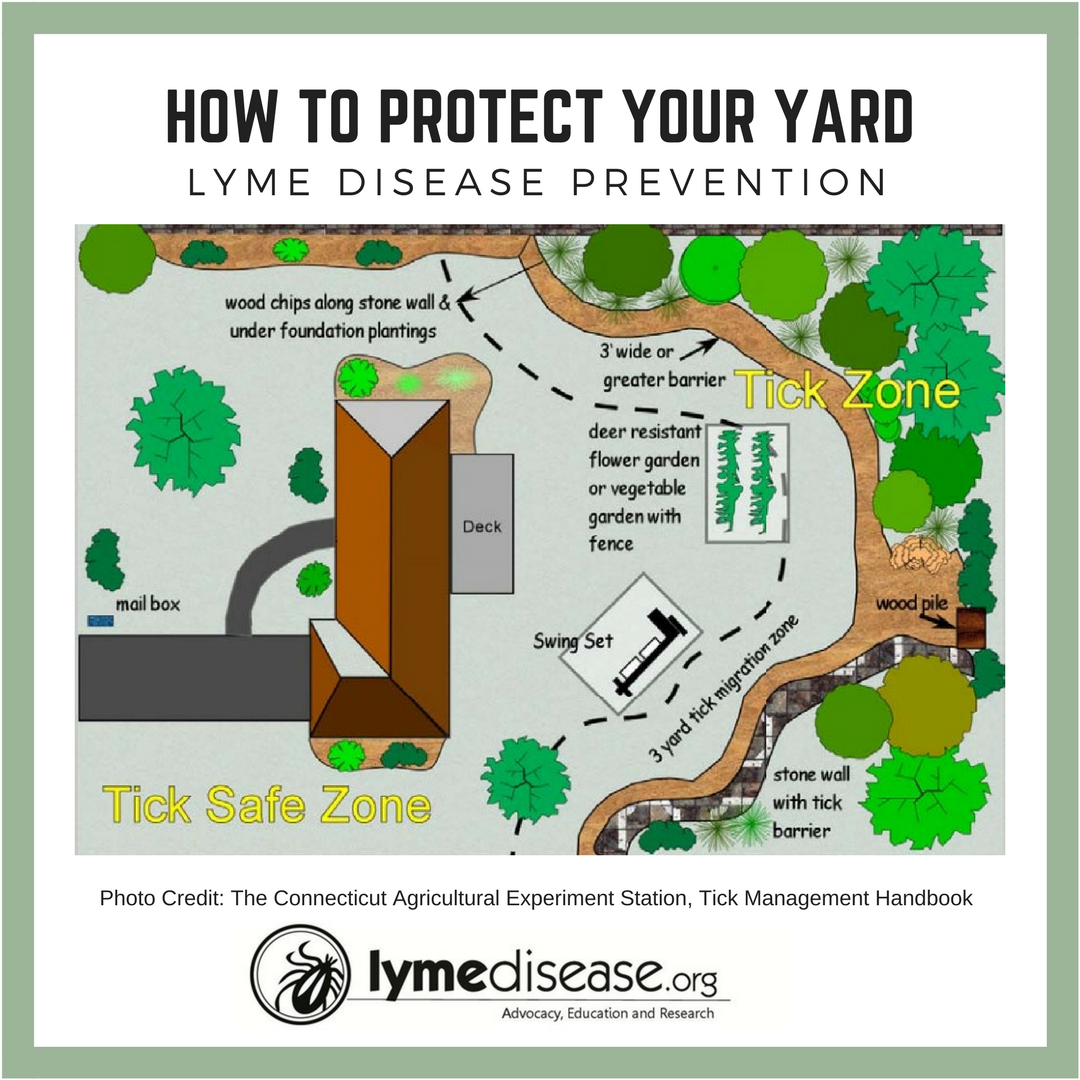 In Summary
From the data, the researchers estimate the risk for Anaplasma will remain relatively unchanged from 2015. The risk for Ehrlichia will be higher than normal, and the risk for Lyme disease will be significantly higher than in past years.
If you own a pet, CPAC advises that one of the best ways to protect yourself from Lyme and other tick-borne diseases it to protect your pet by taking year-round preventive measures.
Interactive Sentinel Map
To see how many cases of canine Lyme disease, Ehrlichiosis or Anaplasmosis have been confirmed in your neighborhood, go to this interactive map and type in your zip code.
LymeSci is written by Lonnie Marcum, a Licensed Physical Therapist and mother of a daughter with Lyme. Follow her on Twitter: @LonnieRhea  Email her at: lmarcum@lymedisease.org .